His Life Mattered
Mother appeals for answers in son's death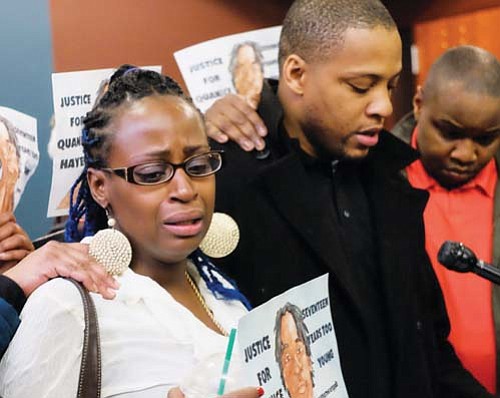 Venus Hayes, the mother of 17 year old Quanice "Moose" Hayes who was fatally wounded by a Portland Police officer last month, gave an emotional and heartfelt statement to Portland City Council and Mayor Ted Wheeler last week asking one central question.
"He was my child, his life mattered, and I want to know why he was killed," Hayes said.
Other family members, including a grandmother, cousin and girlfriend stood at her side as she delivered the statement with tears rolling down her cheeks and her voice cracking with pain.
"Quanice was not a thug or a gang member or some homeless street kid. ... He was a vibrant, ambitious teen who like most kids was at times a little rebellious," the mother said.
Police say they were responding to a call about a car prowler and a suspected robbery on Feb.9 when Hayes ran from them. At some point, he was shot and killed by officer Andrew Hearst, and a fake gun was found nearby, but no other details have been released by officials as the case goes before a Grand Jury.
Hayes' mother voiced concern that Quanice could have been anyone's child, going on to describe her son's shooting and death as happening under questionable circumstances.
After Venus Hayes finished, Mayor Ted Wheeler thanked her and continued to speak, but was drown out by a room of 100 people chanting "Say his name! Quanice Hayes!" Wheeler left his seat behind the City Council desk and gave Ms. Hayes a hug.
Wheeler promised protesters outside of the City Council chambers that he would seek to have the Grand Jury transcript made public once complete and for complete transparency in the investigation.
Venus Hayes has also requested again, that any person who may have information about her son's death to contact the ACLU, the family's attorney, Portland Police, their pastor or "any of the main advocacy groups in Portland."