A Party Waiting to Happen
Musical taps on immigrant hopes and dreams
3/7/2017, 3:37 p.m.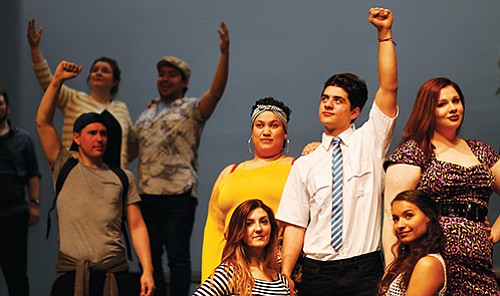 A talented and diverse cast of Portland Community College students, faculty, staff and community members present the Tony, Grammy and Pulitzer Prize-winning musical "In the Heights."
Centered in the largely Dominican-American borough of Washington Heights in New York City, the musical is set to hip-hop music reminiscent of the 1990s and orchestrated with Cuban and Latin rhythms. The show is a party waiting to happen.
Lin-Manuel Miranda, the creator of the hit Broadway show "Hamilton," wrote the music and lyrics based on the book by Quiara Alegrìa Hudes.
Julianne Johnson-Weiss, the Portland singer, actress and music instructor directing the production, calls it "a remarkable tale of families and neighbors with hopes and dreams, successes and failures, wrapped in the tapestry of the American Dream."
"The musical reflects their struggle to be American, while holding on to the culture and traditions, which intrinsically denote who they are and why they survive," she said.
"In the Heights" opens at 7 p.m., Friday and Saturday, March 10-11 and continues Wednesday through Sunday, March 15-19 in the Performing Arts Center on the PCC Sylvania Campus, 12000 S.W. 49th Ave. A matinee performance will take place at 11 a.m., Thursday, March 16 and at 2 p.m., Sunday, March 19.
Admission is $15 for adults and $10 for students. For tickets and more information, visit pcc.edu/about/theatre.