12 Angry Jurors
Justice theater group shines light on bias
Felicia Slider | 3/15/2017, 12:13 p.m.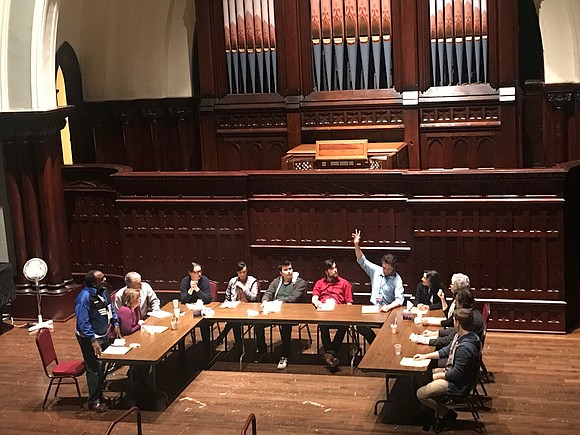 Injustice or just us? It's time to tell the truth. More men are in prison today than the number of slaves in the 1800s. For men of color, it's a population that has historically and currently receives far longer sentences than other groups.
Bias and fairness in the criminal justice system is front and center when "Voice for Voiceless Theater," a diverse justice theater group, presents "12 Angry Jurors" a play that exposes the truth about the effects of racism and classism on criminal justice, on Friday, March 17 through Sunday March 19 at the First Congregational United Church of Christ, 1126 S.W. Park Ave. Each performance will begin at 7:30 p.m.
Proceeds from the play will help benefit Partnership for Safety and Justice, a non-profit group which advances policy solutions to crime that ensures justice, equity, accountability, and healing to achieve safe, strong communities in Oregon.
"12 Angry Jurors" is an Emmy award-winning classic about a murder trial that gives witness to the raw racism, bold biases and stirring stereotypes that arise during a jury's deliberations. The intense and electrifying scenes will have you thinking critically about your own views, misconceptions and moral compass.
The Voice for Voiceless theater group uses a diverse cast to show how biases are confronted and what happens when each juror adamantly defends preconceived notions.
The gripping, penetrating, and engrossing trial looks like an open-and-shut case—until one of the jurors begins opening the others' eyes to the facts. As natural biases and preconceptions come into focus, each juror reveals their character and the various trial testimonies are re-examined.
Each production will be followed by a facilitated talk by criminal justice reform activists to explore the play's themes and issues. The panelists include Andy Ko of the Partnership for Safety and Justice, Tiffany Harris, a criminal defense attorney, and Amanda Manjarrez of the Coalition of Communities of Color for the showing on Friday, March 17; Antoinette Edwards of the Portland Office of Youth Violence Prevention, Donna Maxey of Race Talks and Iris Maria Chavez, education advocate and communications consultant, for the show on Saturday, March 18; and Rebecca Nickels of Call of Safety, Lane Borg of Metropolitan Public Defender Services, and Bobbin Sigh of the Oregon Justice Resource Center for the performance on Sunday, March 19.
For more information about the play and organizations participating, and a link to buy tickets s, visit voiceforvoicelesstheatre.com.