Bus Service to Expand
3/15/2017, noon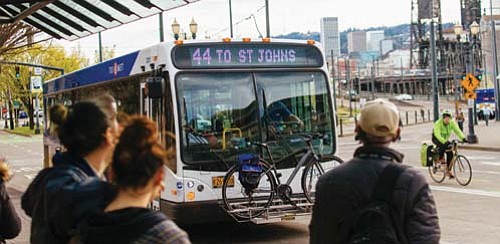 TriMet released a new operating budget last week that calls for continued investment in expanding bus service and improving the reliability of MAX light rail trains.
The $532.4 million proposal would add 57 new buses to the fleet and bring new bus lines in east Portland, east Multnomah County and Washington County. Other investments include improvements to the original MAX line that has been serving the community for more than 30 years, and updating pedestrian rail crossings. For the fifth year in a row, there is no adult fare increase.
TriMet is in the second year of a 10-year expansion of transit service throughout the region focused on improving reliability, better matching service to demand, connecting people with jobs, and expanding service hours and easing crowding. The growth is funded in part from an increase in the employer payroll tax being phased in over a 10-year period.
"With these new revenues, we're improving service and even adding new bus lines to help keep our growing region moving," said TriMet General Manager Neil McFarlane. "With thousands of new residents and jobs coming to the region, our service expansions are critical to providing new and better options for riders to connect to jobs, school and other activities."