Best Intentions and Solemn Commitments
Portland's safety pin campaign
Ronault LS Catalani | 3/21/2017, 4:22 p.m.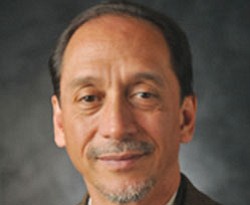 I was bone-tired. I was slouched at the exhausted end of one of those nights when your workday just won't quit. Not with so much still undone.
I pulled on my boots, believing a walk would help, but Oregon rain was falling straight and hard from clouds not half as high as downtown's Wells Fargo tower. Then, as if on cosmic cue, a Facebook notification buzzed my sleepy iPhone. Kathleen D. Gunnell Saadat was posting on the safety pin campaign.
Wearing a safety pin, if you haven't heard, lets anxious families who fled cruel states, failed economies, or rising oceans, know they're safe near the pin's wearer, a symbol of solidarity. "Safe" from our super-nationalist leaders and their suddenly enabled followers.
Saadat, if you haven't met, is living history. One of our River City anchor elders. On this moody night she was using social media to set out what her muscular generation expects from the next one. From us.
In her post, Saadat wrote about a couple gathering her in their arms when an angry man yelled all kinds of racial awfulness at her. It happened before our current turn toward societal instability, well before Portland's safety pin campaign. "No one helped," she said, "until I called to a passing couple and asked for help. They were white. They did not hesitate."
"People who choose to wear a safety pin" Saadat continued in the tone characteristic of all elder aunties on all continents and on every lovely island in between " – should understand the commitment they make to get directly involved.
"I took my chances that whoever I asked for help, would in fact help." Long pause. And inside her pause lies the solemn social compact of our times. Inside this moment, must reside both your promise to act and her trust in your sincerity.
Saadat's gamble that night was big. The biggest. Indeed, ask any ethnic stream elder from the community and they'll recount seven decades of fumbled foreign policy promises, our Constitution's amnesiac episodes, local civil society's silence, even gentle Jesus Christ's urgings – living in the broken hearts of Native and African America – chilling the broken bones of our Nikkei, Korean, Khmer, Lao, Hmong, Iu Mien, Lao, Afghani, Iraqi, and Kurdi, neighbors. These families asking for help again, from Anglo America, is big.
Sharing a nation made of our best intentions, has never been enough. Portland ideals will not do. This year we sorrow the 75th anniversary of Japanese America's forced removal from their homes. From their homes. President Franklin D. Roosevelt's Executive Order 9066 sent 120,000 elders, parents, and their children to barbed wire compounds. Portlanders' babies were born under the guard of US Army riflemen.
Only those of us committed, as Saadat said, "to get directly involved" can mend these neighbors' hearts and bones. Pronouncing policy statements is not enough. You and me gathering to cheer them, is not enough. President Donald J. Trump's authoritarian ethos has already turned into hard hits. On us. On Native, settled, and new Americans, alike.
How each of us acts on the safety pin's promise, is a personal commitment. Drawing a crowd to protect a Mexican or a Muslim from an immigration officer or an ugly bigot, is good. Good also is civil disobedience in the tradition of don César E. Chavez and the Rev. Dr. Martin Luther King. Mastering a simple jujitsu trip is good. Those of us safe in our households and work floors telling our elected officials that declines in public services in exchange for protecting vulnerable families, is necessary. Bottom line: The pin requires some pain. Commitment is like that. But there's a big prize. The biggest. At the end of Saadat's posted essay, she says the five sweetest words you'll ever hear during your short stay on our shared little blue planet. – "I will never forget them," she said. Meaning that kind couple who embraced her fears. Meaning those lovely Portlanders ready to close the awful distance between best intentions, inspiring words, then sudden, silent withdrawal from all that. Seventy-five years of this.
Ronault LS Catalani (Polo) is a longtime activist and community lawyer.