Growing the Brand
Champions founder opens vocational school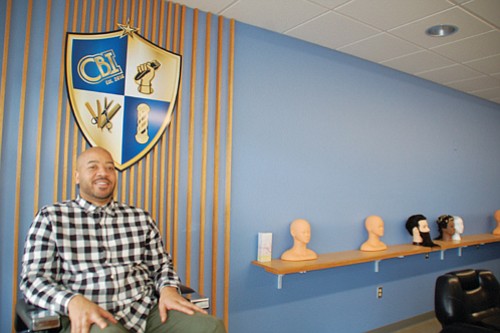 Jamaal Lane's new office is spic and span clean with a fresh coat of paint. Confidently seated behind a sleek desk with a framed drawing of black activist and philosopher Dr. Cornel West resting on the floor, Lane has been too busy to hang the portrait. But "Every day I come into my office," he explains, "that picture tells me why I'm here."
A long time barber and the founder of Portland's upscale Champions Barbershop, Lane is growing his brand by opening Champion's Barbering Institute, Inc. (CBI), the only Portland school dedicated solely to teaching the craft of being a barber, located at 424 N.E. Killingsworth St.
The institute opened in December inside an office with plenty of sunlight, well appointed fixtures, updated wood features and two dramatic rows of cushioned black barber chairs.
Down the hall, all the signs of a school in session are underway as four young men sit inside a classroom watching a projected video on the art of cutting facial hair. Shiny new laptops are propped open on their desks. A row of mannequin heads line a shelf: One with soft 1940's pin curls, another with a zigzag fade and a few more with epic Samson length hair.
The students started classes in January and in a few more weeks will start using their skills in real life, with real customers. After giving 575 cuts, they can apply for a state license and start their career.
Over the last 14 years, Lane has been sought out for his barbering abilities. He started off trimming his own hair and then friends' hair before taking it up for a living in his 20s. He attended the Beau Monde College of Hair Design, and became the first barber to work under the well-respected Portland legend, Reggie Brown.
At Reggie's Barbershop, Lane learned the ins and outs of the trade for five years before he and a friend opened Champions Barbershop in 2009, a tasteful hybrid between the old school barber and a modern, convenience hair salon.
Both Champions and Lane's career thrived. But as the need to employ more barbers grew, Lane witnessed a trend: Too many of his prospective hires had invested a significant amount of money and time into earning their state barbering license, but weren't fully prepared with the right skills to enter the work place.
"They didn't get hands-on training," he said. "I noticed a watering down in the industry and schools weren't setting the students up for success."

Champions Barbering Institute is focused on raising the bar. The school limits enrollment to a maximum of 10 places at a time. The tuition for 10 month course costs $14,000, considered an affordable price for a barber's education. The school works with students to set up payment plans, so when they finish school they aren't in debt.
At CBI, the students are taught by barbers who've worked in the field and know how to pass on the details that make a difference for a client's specific needs. They are empowered with classes on how to handle the business side as well, build their own brands and develop successful marketing strategies.
Members of the community are encouraged to benefit from the student's training by being given the opportunity to get a haircut or a shave at a reasonable price.
The public is invited to celebrate with Lane as Champion's Barbering Institute holds an official Grand Opening celebration on Saturday, April 15 from 12 p.m. to 3 p.m. The event will feature a ribbon cutting, raffle and special activities. You can also call the institute at 503-477-5616, visit their website cbi.life or drop by the school to learn more.