Life Changing Job Training Offered
A free introduction to the trades
3/21/2017, 3:57 p.m.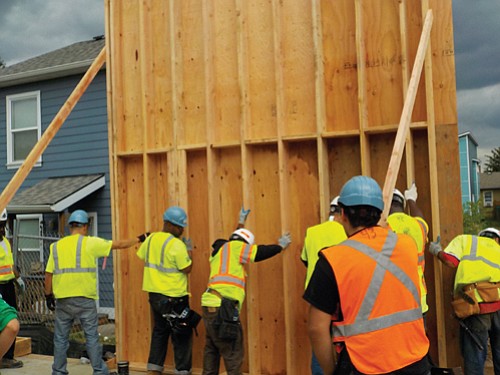 Constructing Hope means rebuilding the lives of people in our community. The program empowers people by encouraging self-sufficiency through the learning of life skills and basic education in the construction industry. The program offers a free 9 week pre-apprenticeship training program with 180 hours of classes and hands-on training from its headquarters at 405 N.E. Church St.
"It's easy; it's nine weeks, and its nine weeks that's really life changing," says Pat Daniels, Construing Hope executive director.
Construction is one of the industries with the highest projections for new employment opportunities. Positions range from unskilled laborer and helper jobs to employment which requires extensive training, education and skills.
The average annual wage for all construction was $42,280 in 2015, which was higher than the average annual wage for all occupations of $36,200.
The most in-demand jobs with higher than average projections for job creation and median pay include boilermakers, construction equipment operators, construction laborers and helpers, electricians, insulation workers, ironworkers, masonry workers, plumbers, pipefitters and steamfitters and roofers.
"When you're starting a career in construction making 16, 17 dollars an hour; when you're making more money, your lifestyle is much better and so is your health," Daniels said.
The classes are taught by program instructors, as well as, retired construction workers. Students follow a Tuesday through Thursday training schedule from 6:30 a.m. until 4:30 p.m. Upon completion, graduates enter both union and non-union construction trades having met certain qualifications.
For more information on the Constructing Hope Pre-Apprenticeship Program, call 503-281-1234 or visit constructinghope.org.