Community Activism and the Blues
Keeping the focus on 'Healthcare for All'
Terry Ann Rogers | 3/28/2017, 4:59 p.m.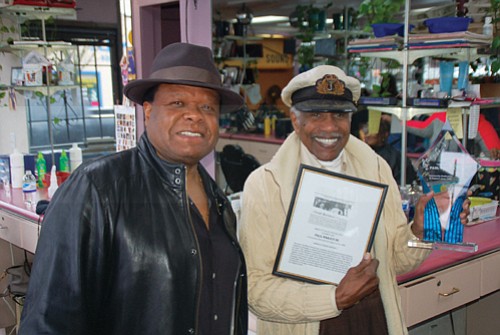 Health care which is too expensive or leaves too many people without coverage is no solution for a large group of local musicians who have announced that the goal of universal health care will once again be the community issue behind their Inner City Blues Festival, returning next month to the Eagles Lodge in north Portland.
The April 22 concert will be a fundraiser for Health Care for All-Oregon, an advocacy organization working to bring an equitable, affordable, comprehensive, publicly-funded health care system to all Oregonians. Universal health care goes way beyond the limits of the Affordable Care Act or anything that has been proposed as a replacement by President Trump and the Republican Congress because it would provide health care and financial protection to all citizens.
According to the musicians backing the festival, the uncertainty about access to health care in the current political climate means that health care for everyone in Oregon is now more important than ever. A great many musicians and artists suffer greatly from the lack of medical care.
Iconic Portland bluesman Norman Sylvester, one of the festival's organizers, said the issue for him is that health care should be seen as a human right.
"I have played too many benefits for musicians who fell ill or more tragically played for their Celebration of Life," Sylvester said. "They didn't have preventative care because of years of not being able to afford healthcare."
Portland musician Rob Shoemaker knows what it's like to face huge medical bills without a safety net.
"When my wife needed rotator cuff surgery, we were forced to re-finance the house to cover our part of the expenses. Our old mortgage would have been paid off three years ago. As it is, at age 62, I have 12 years of house payments still ahead of me," Shoemaker said.
LaRhonda Steele, another favorite Portland blues and soul artist, said universal health care to her means freedom.
"Without the concerns of enormous medical debt, we are allowed to be fully who we are. Also the weight of concern for our brothers and sisters who can't afford proper health care would be lifted and thus lifting all our hearts."
The Inner City Blues Festival grew out of the Rainbow Coalition in 1988, a year Americans entertained the thought of our first black president with the campaign of Jesse Jackson. Bob Gross, Ken Cropper and Norman Sylvester, along with a group of other dedicated local activists, helped plan the first festival to promote Jacksons' candidacy. The festival grew to support a variety of community causes over the next 10 years.
When the campaign for universal health care took off in Oregon in 2011, the festival was revived as a benefit for the cause and is now in its sixth year, drawing hundreds of fans.
The 6th Annual Inner City Blues Festival, "Healing the Healthcare Blues," returns April 22 to the North Portland Eagles Lodge, 7611 N. Exeter., at Lombard Street. Doors will open at 5 p.m. and the music runs until midnight.

The lineup of stars performing to support the cause will include the Norman Sylvester Band, Obo Addy Legacy Project "Okropong," Mary Flower, Tevis Hodge Jr., Mic Crenshaw, the Shoehorn, Stangetones & Volcano Vixens, Bloco Alegria, Steve Cheseborough, Lloyd "Have Mercy" Jones, Tony Ozier "Doo Doo Funk," the Mad as Hell Doctors, Nurses & Interns, and celebrity MCs Paul Knauls, Renee Mitchell and Ken Boddie.
Tickets are now on sale. Admission is $20 in advance and $25 at the door. Tickets are available at Music Millennium, 3158 E Burnside; Geneva's Shear Perfection, 5601 N.E. Martin Luther King Jr. Blvd.; Peninsula Station, 8316 N. Lombard; and the Musician's Union Hall, 325 N.E. 20th Ave. Tickets are $25 at the door.
Terry Ann Rogers is an Inner City Blues Festival volunteer.