On Hoop Dreams and Gang Culture
Portland author and retired teacher's latest novel
Felicia Slider | 3/28/2017, 3:53 p.m.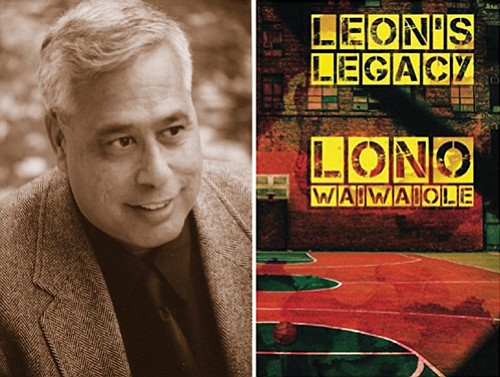 Basketball culture and gangs are once again intertwined in the latest fictional work by Portland author and retired teacher Lono Waiwaiole.
The former instructor and coach at Benson, Jefferson and Marshall high schools has just released his third and newest novel "Leon's Legacy," a book series set in late-1980s Portland, when gangs and drugs ran rampant.
Born in San Francisco, Waiwaiole spent his childhood moving up and down the West Coast. With a potpourri of professions that also includes an editor of a weekly newspaper, magazine, and professional poker player, his career past is just as powerful as his literary present.
Half Hawaiian, a quarter Italian and a quarter of what his family refers to as Pennsylvania Dutch, Waiwaiole says his tangled cultural heritage has had a significant impact on the way he looks at people in his life and in his writing.
"Leon's Legacy," released on Feb. 13 by Down and Out Books and available on Amazon.com and other retail outlets, searches for the motivation and the solutions behind gang violence.
The main characters are two protagonists; Wiley, the poker player and basketball passer, and his not so passive and competitive pal, Leon, the basketball scorer. Both have different skills sets and together make for a really good team.
The writing is another suspenseful account of high school basketball culture and the oppositional forces that kids face, a prequel to his previous pens, Wiley's Lament (2003) and Wiley's Shuffle, (2004).
The book intersects basketball culture and gangs in a trajectory of conflicts that wage turmoil on high school athletes dreaming of winning state championships while dealing with the surrounding elements and influx of gangs waging warfare on turfs. It's a tug of war of triumph and tragedy as students, neighborhoods and families try to co-exist.
The book is also a tribute to everyone who successfully navigated the violence during these eras. It's homage to hometown heroes who will never be forgotten. There are villains and victims, and like a tsunami, when catastrophe strikes, the tidal wave of tragedy is of such magnitude that everyone is impacted.
Waiwaiole shared that the name of one of his characters was inspired by a student he taught at Marshall who wanted to be named in his book. The inspiration for the name Wiley came from the author's childhood.
"That name came from a nickname, kids used to call me. Because they couldn't pronounce my first and last name, they used to call me 'Wiley Coyote.' So I said okay, fine, I will reference it as my alter ego."
Waiwaiole shares that his cultural background helped him develop the different characters. "Being multicultural, it's been a benefit throughout my literary life. Especially, how people get along in inner and outer circles. It has helped me interact with people from various groups."