No Satisfaction
Grieving mom and reform advocates push back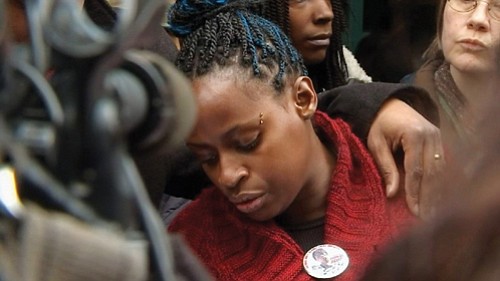 Advocates for police reforms have added their voices to the mother of a teenage son killed in an officer-involved shooting to criticize and reject a grand jury decision finding no criminal wrongdoing.
Venus Hayes, responding to last week's grand jury decision finding that police officer Andrew Hearst was justified in using deadly force when he shot her 17-year-old son, Quanice Hayes on Feb. 9, said she does not feel the full truth about the shooting has been revealed.
She criticized the Police Bureau and the Multnomah County District Attorney's office for the manner in which it has released information about the death and disputed the official account that three officers were involved, calling for a federal investigation.
She accused Hearst of conducting an execution-style killing while her son was kneeling on the ground with no gun pointed at anyone.
The Albina Ministerial Alliance Coalition for Justice and Police Reform, representing the African American community, also called the shooting unjustified and said it points to the need for independent oversight of Portland Police officers in the use of deadly and excessive force.
"How can you put a bullet through the head of a young teenager on his knees, as well as two additional bullets in his body," a statement from the AMA group said. "We know the PPB is trained to shoot for the center mass, so the shot to the head is inconsistent with training.
"This is why we need stronger, independent oversight of the Portland Police Officers in the use of deadly and excess force," the AMA statement said.
According to grand jury transcripts made public, Officer Hearst testified that he shot Hayes with his AR-15 rifle when the teenager reached for his waistband. Hearst told the jury he thought Hayes was reaching for a gun. Hearst said he never saw the gun but was sure he had one based on previous reports.
Just before the deadly confrontation, Hayes allegedly used a replica gun to rob a man of his state food benefits card outside a Northeast 82nd Avenue motel and was a suspect in a reported car prowl. Police said an examination of a replica firearm found just a few feet from Hayes' body, showed Hayes' DNA on the gun.
The officer-involved shooting has increased tensions between police and members of the African American community. It continues a pattern in Multnomah County where the district attorney and grand juries have never indicted a white police officer for killing or using excessive force against a black person or Latino in the history of the city, the AMA said.
Police will conduct an internal review of the shooting death.