Division on Mayor's Police Chief Search
There's push back and support
Zachary Senn | 5/2/2017, 12:13 p.m.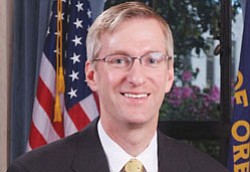 Mayor Ted Wheeler's renewed commitment to conduct a four month nationwide search for a new police chief has drawn support and opposition.
The union representing Portland Police Bureau officers criticized the search last week while throwing their support behind the current chief Mike Marshman. At the same time, an African-American leader of the police reform movement in Portland welcomed the search.
The Portland Police Association says a survey of the union's rank and file members found 94 percent support the chief with 83 percent of the officers agreeing that replacing Marshman with someone from outside the bureau would adversely affect the city's law enforcement.
The Rev. T. Allen Bethel, who serves as the vice chair of the Albina Ministerial Alliance Coalition for Justice and Police Reform, however, supports looking outside the department. He criticized Marshman for not working hard enough to implement police reforms as a member of an oversight panel.
"I didn't see great participation by him or really a push by him to see that the reforms and the community's concerns were heard," Bethel told The Oregonian/OregonLive.
Wheeler, who also serves as the city's police commissioner, promised to conduct the national search to replace Marshman throughout his campaign. He also pledged to continue guiding the city's police reform efforts, and working toward demilitarizing the Bureau.
In an recent interview with the Portland Observer, the mayor encouraged Chief Marshman to reapply for the position to be considered.
"If Marshman is to stay, I need to know he's my chief," Wheeler said, "And that he's committed to the reforms that I've been espousing."