March Turns to Riot
May Day messages get drown out
Zachary Senn | 5/2/2017, 2:54 p.m.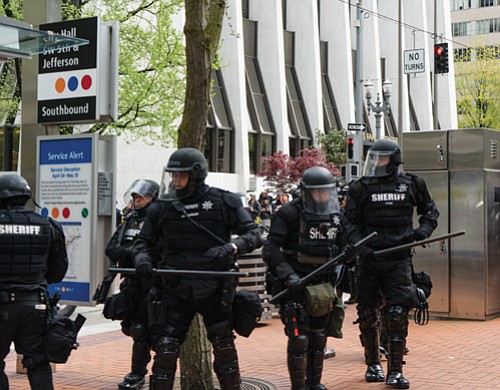 A peaceful downtown march to observe May 1 as International Workers Day and a rally point for other causes was disrupted Monday when a large group of protesters turned violent by throwing rocks, smoke bombs and road flares. Windows at Portland City Hall and several storefronts in the downtown core were broken and fires were set.
Witnesses said everything was calm with groups of people of all ages participating in a permitted march during the afternoon when another group of people identified as anarchists arrived and were intent on violence.
Police said 25 people were arrested after the march devolved into a riot and the permit was revoked. Most were charged with committing criminal acts, including disorderly conduct, riot, arson, criminal mischief (vandalism), theft, and assault.
Police said several sticks, poles and homemade shields were taken into possession by police early in the march from participants arriving at Shemanski Park in southwest Portland.
The fires were set in the street and in garbage cans. Authorities said a police car was spray-painted and vandalized, and there were attempts to set at least one business on fire. Some of the items thrown at or launched at police and firefighters were listed as rocks, bottles, ball bearings, fireworks, smoke bombs and road flares.
"I'm very proud of the professionalism of Portland Police officers, Portland Firefighters and the members of the other law enforcement agencies that worked to keep the peace in Downtown Portland under very difficult circumstances," said Police Chief Mike Marshman. "Unfortunately the actions of the law breakers undermined and covered up the message of the law abiding individuals who worked to peacefully get their message heard on May Day."