Pilgrimage marks injustice 75 years ago
Return and Remembrance Saturday at Expo Center
5/5/2017, 8:48 a.m.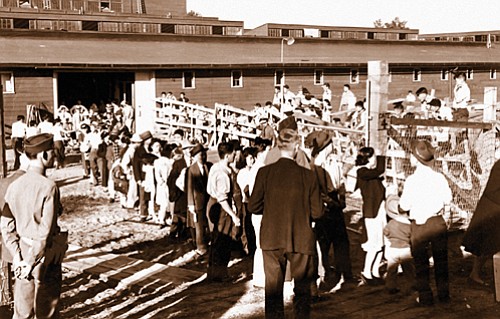 The community is invited to a special ceremony Saturday, May 6 at the Portland Expo Center to honor Japanese-Americans from the Portland area who were forced out of their homes and businesses and driven away by wartime hysteria and racism 75 years ago.
On May 6, 1942, Portland was empty of Japanese Americans by military decree. Families were uprooted, property sold, and local businesses closed. Under Executive Order 9066, 3,700 people of Japanese descent were moved into the former animal stalls of the Pacific International Livestock and Exposition Center. Four months later, they joined 120,000 other Japanese Americans in 10 hastily erected concentration camps across the United States.
The Oregon Nikkei Endowment and The Portland Japanese-American Citizens League present
Return and Remembrance, a Pilgrimage to the Portland Assembly Center to honor the victims of this unjust incarceration. The event will be held from 2 p.m. to 4 p.m. in Exhibit Hall A of the Portland Expo Center in north Portland.
For more information or to RSVP, email info@oregonnikkei.org or call 503-224-1458.