On the Ballot
Historic schools modernization effort faces votes
Zachary Senn | 5/9/2017, 4:47 p.m.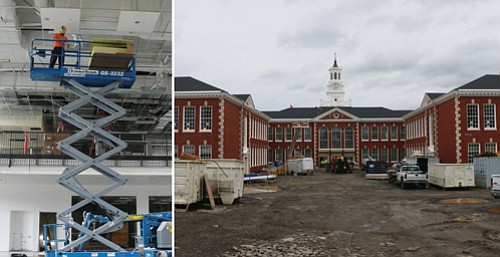 Just a few days are left to cast ballots in a proposed school bond of historic proportions that would continue a schedule of major upgrades to Portland Public Schools.
Measure 26-193 would raise $790 million dollars to pay for rebuilding and renovating three high schools and a middle school, and make health and safety repairs to nearly every school building in the district. Ballots must be received at county elections offices or at official ballot drop off sites by Tuesday, May 16 at 8 p.m..
The measure is the largest property tax bond proposed in Oregon's history and the second of a long range modernization effort for Portland's schools that follows the district's 2012 bond that paid for modernizing Roosevelt and Franklin High Schools and the rebuilding of Faubion Elementary in northeast Portland. If approved, the new levy would raise property taxes by $1.40 per $1,000 of assessed value for four years.
Jeremy Wright, campaign director for the "Portlanders for Safe Schools" yes campaign says that last year's lead drinking water crisis underscored the need to fix school infrastructure in old and failing buildings.
"If we don't pass this measure," Wright told the Portland Observer, "the district will continue to spend more money on health and safety emergencies."
The new bond would pay for remodeling of Benson and Madison High Schools in northeast Portland into modern school facilities, completely rebuild Lincoln High School, downtown, Kellogg Middle School in southeast Portland, and fix aging infrastructure in every school, including the removal of lead paint and lead in drinking water.
On a press tour of the nearly-completed Franklin last week, Portland Mayor Ted Wheeler who has endorsed the district's new funding measure, spoke to the need to continue providing Portlanders with safe and state-of-the-art learning spaces.
Franklin High School Principal Juanita Valder accompanied the mayor with four of her 'bookend' students. These students attended their freshman year at the old, pre-renovated Franklin and will finish out their senior year at the completed structure.
"We had a 100 year old building," Valder said, "So it was time."
Pointing to the tremendous impact of the 2012 bond measure on her students, Valder says that it's essential to continuing funding school revitalization for Portland's long-term economic health.
"Investing in our children is investing in our future," explained Valder. "It's an effective use of money that will support our kids for the next 100 years."
She adds that by making lasting contributions into the education system, students will be able to achieve greater academic success.
"It's amazing to watch the faces of the four that are here today… They feel valued," Valder said.
Christina Strommer, a 16-year-old Franklin High School junior, says that the building improvements are also enhancing her educational opportunities. She compares the new technologies that are being implemented in the campus' classrooms and theatre to those you'd find at a four-year university.

"Even the little things are really making a difference," Strommer said. "Having advanced classes in this advanced building is just an absolute treat."
17-year-old Franklin High School junior Michelle Jaramillo says that the new features at her school, such as increased natural light and more classroom space, will help her focus as she continues on in her academic career.
"Having bigger classrooms and fewer distractions will really help us improve our focus," Jaramillo stated.
Despite the clear success of the 2012 school bond measure, public confidence in PPS has waned over the leadership of the district and former Superintendent Carole Smith's resignation last year.
Wright explains, however, that community members' concerns with school administration should not affect their decision on the school bond.
"The school modernization work is overseen by a citizen advisory board, the Bond Advisory Committee," Wright said.
Addressing the anticipation for a new superintendent and the three board members' slots open and up for election, he says "We're at a juncture for the district to turn a corner and begin a new chapter."
Buildings renovated by the bond measure will comply with the U.S. Green Building Council's LEED Silver certification. Wright says that by minimizing the energy used by PPS facilities, following these stringent environmental guidelines will actually help the school system reduce its operating expenses over time.
Wright emphasizes that the bond presents a long-term solution to PPS' infrastructural woes, rather than a series of temporary fixes.
"This is our best opportunity to impact the lives of Portlanders for many generations," Wright said. "When our students are provided learning opportunities in safe, healthy, modern and efficient schools, they'll be better equipped to compete in college and career."
Vote-by-mail ballots must be received before 8 p.m. on Tuesday, May 16. Postmarked dates are not accepted. Ballots can also be deposited at any official election drop box prior to 8 p.m.