In Loving Memory of Geneva Harris Bedford
5/9/2017, 4:33 p.m.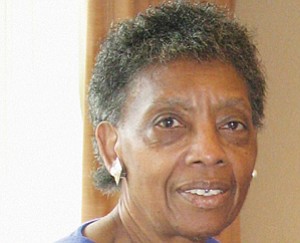 Geneva Harris Bedford, reverently known as "Mrs. B," transitioned to glory on April 26, 2017 surrounded by her loving son and family.
She was born July 19, 1931 to the late Bennie Harris Sr. and Cornelia Walden Harris of Forest, Miss., the fourth of 10 siblings. She established her working career with the Portland Clinic in 1958 as a laboratory tech coordinator where she was a faithful and dedicated employee until her retirement in 1996. She was loved and adored by her staff and cared deeply for her colleagues. Many of her co-workers came to her for advice, spiritual guidance, and often requested that she pray for their families.
Geneva was an active and devoted long-time member of First A.M.E. Zion Church in Portland. She was a member of the church's Women's Home and Overseas Missionary Society, served as director for the Children's Department in the church's Cascade District representing Oregon and Washington and also served as a Deaconess.
She truly loved helping kids and the children who served under her direction loved to work with Geneva. The legacy she leaves behind in the hearts of children is filled with appreciation and gratitude.
Geneva was preceded in death by her parents; her loving husband Robert Bedford Jr.; two brothers, James Harris and Willie Harris; and two sisters, Bernice Harris Allen and Doris Harris Eiland.
She leaves to cherish her memory, a loving and devoted son, Charles Bennie Bedford of Portland; three sisters, Mary Louise Coleman of Portland, Shirley Ann McGowan (Edward) of Lawrence, Miss., and Bobby Greer (Willie), of Riverside, Calif.; three brothers, Bennie Harris Jr., of Forest, Miss., and Bobby R. Harris (Agnes) and Paul Harris (Joyce) of Portland; a special god-daughter Chavonne Allen-Foster of Las Vegas, Nev.; and a host of nieces, nephews, relatives, friends, and special family friends, Leslie Mattila and Nelson Murray.
Charles Bedford also acknowledges his life-long friend Joe Perry for his continued assistance in caring for his mother. Joe and Geneva had a unique mother-son relationship.