Parade to Celebrate St. Johns
5/9/2017, 3:11 p.m.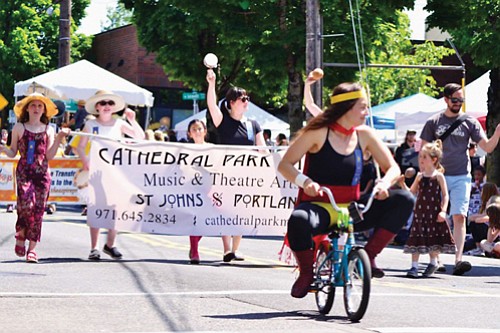 On Saturday, May 13, north Portland will kick off its annual St. Johns Parade as friends and neighbors gather to celebrate the community and kick off one of the first official Portland Rose Festival events. The parade begins promptly at noon on North Burr Avenue in the neighborhood's downtown core.
The third largest parade in the state draws thousands of spectators who will gather to see horses, firefighters, school marching bands, kids pulling wagons, clowns on unicycles and multi-cultural organizations celebrating the close knit neighborhood.
In conjunction with the celebration, the St. John's Bizarre returns from 10 a.m. to 7 p.m., featuring an open air craft fair with over 100 vendors. A diverse lineup of mostly local bands will rock the stage with sounds ranging from indie-rock the Thermals, Latin folk group Y La Bamba, sweet Goth-pop from Little Star and St. John's own rap by Illmac.
A number of free activities will also be geared to children.