Superintendent Pick Withdraws
Sole finalist and board part ways
Zachary Senn | 5/9/2017, 4:31 p.m.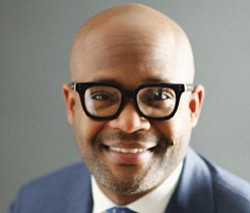 Donyall Dickey, the black educator and school administrator from Atlanta recently named the sole finalist to fill the position of superintendent of Portland Public Schools, has withdrawn his candidacy for the job.
The district issued a statement last week calling the development a mutual decision. It came just after the school board reviewed a final report on Dickey's background and application.
The responsibilities of the superintendent's selection process will now fall on a new school board that will be constituted after a vote-by-mail May 16 election in which three new board members will be elected with terms starting this summer.
Jamila Singleton Munson, a candidate for the seat representing Zone 4 in north and northeast Portland, and the only black candidate seeking a position on the seven member board, faults the lack of cohesion on the PPS board and says correcting the dysfunction is more important now than ever.
Munson points out that selecting a new superintendent and navigating budget shortfalls will require the newly-elected board's full and immediate attention once they assume office.
"It's a challenge that the new board is going to have to face head-on," Munson told the Portland Observer. "It speaks to how important it's going to be for the school board to be really collaborative."
Interim Superintendent Bob McKean is not expected to return to lead the district through the 2017 academic year. Deputy CEO Yousef Awwad will be responsible for managing the school system while the board members restart the hunt for a permanent superintendent, district officials said.
Dickey currently works with Atlanta Public Schools where he has been widely championed as a competent reformer. He formerly served in administrative roles in the public school districts of Baltimore and Philadelphia.
The search for a new head administrator began after former PPS Superintendent Carole Smith stepped down last July, following revelations that many district facilities had unsafe levels of lead in drinking water faucets.