Bomb Explodes at Concert
5/23/2017, 3:41 p.m.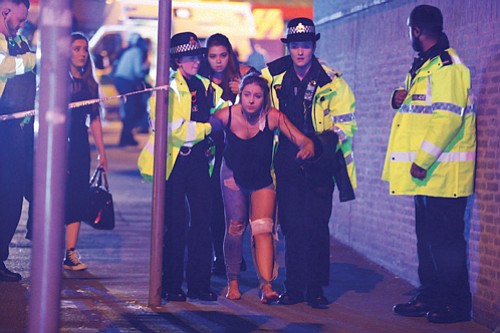 A bombing struck an Ariana Grande concert in Manchester, England on Monday night killing 22 people, including children at a venue packed with young fans of the American musician.
Parents separated from their children during the mayhem were told to go to nearby hotels, where many concertgoers had taken refuge. Grande was not injured.
The Islamic State has claimed responsibility for the bombing, the deadliest terrorist attack in Britain since 2005.
Salmon Abadi, 22, a man born and raised in Britain was identified as the suicide bomber. The device exploded outside a crowded exit as the concert ended.
Prime Minister Theresa May on Tuesday said Britain's threat level from terrorism has been raised to critical - meaning another attack may be imminent. The level previously stood at the second-highest rung of "severe" for several years.
May said critical status means armed soldiers may be deployed instead of police at public events such as sports matches.