Boosting Brain Power in Early Childhood
Simple and fun activities to share
Marian Wright Edelman | 5/23/2017, 2:51 p.m.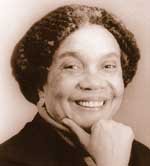 What if boosting a toddler's brainpower was as easy as turning on a light switch? In fact, "Flip the Switch" is one of the simple activities suggested by Vroom, an initiative that provides creative tools and materials to help families turn daily interactions with children into "brain building moments."
On one side of an electronic "flashcard" Vroom describes this idea for children between six months and two years old: "Before leaving the house today, let your child be the one to turn off the lights. Help them flip all the switches and talk about how their actions turn the lights off for darkness and on for light."
On the reverse side Vroom explains the "brainy background" behind it: "This game teaches your child about cause and effect. When one of you hits the switch, your child will observe how the lights turn off and on. Have a conversation about what is happening so they learn some new words too."
Vroom, an initiative of the Bezos Family Foundation, is one of a number of initiatives across the country focused on empowering parents to boost early childhood brain development. The first five years of life are the time of greatest brain development. Early nurturing interactions with caring adults form the basis of a healthy brain foundation. The strong case for increased federal investments for quality child care and other early childhood programs is bolstered by the great local work supporting families and communities in building healthy brains during children's earliest years of life.
A baby is born with a brain 25 percent as large as an adult brain. Researchers at the Institute for Learning and Brain Science at the University of Washington tell us that by the time she reaches her fifth birthday, her brain is already over 90 percent of the size of her mature brain. That startling period of growth in size is mirrored by the growth in neural connections needed to learn how to process information and build skills.
The Center on the Developing Child at Harvard University reports that in the earliest years of a child's life more than one million of these connections are formed every second, with simpler connections paving the way for more complex ones. These early connections build the foundation for children's future health, education and behavior. Every time adults respond appropriately to a young child's calls for attention, they are helping build and strengthen neural connections and supporting the development of a strong brain foundation. The Center on the Developing Child refers to this quality parent-child communication as "serve and return" interactions and says the absence of them is a "serious threat" to a child's development.

Following a 2011 conference by Dr. Ron Ferguson devoted to discovering what parents need to know to help eliminate skill gaps already evident at age two, an advisory committee of researchers came up with five "basics" all parents should practice with their children to support healthy brain development: Maximize love and manage stress; 2) Talk, sing and point; 3) Count, group, and compare; 4) Explore through movement and play; and 5) Read and discuss stories.