Explore the Vanport Mosaic
Festival brings history to life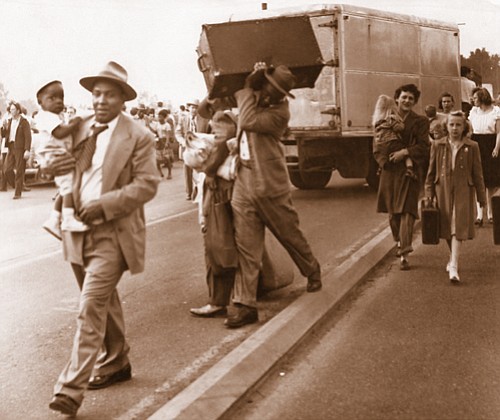 The Vanport Mosaic Festival is a celebration to explore, educate and remember the history and impact of those who lived and died in a community that was destroyed by floodwaters 69 years ago this month while also illuminating stories of struggle and resilience that illuminate Portland's African American history.
A large line up of events told through film, theater and historical exhibits are planned for the Memorial Day weekend beginning on Friday, May 26 and continuing through Monday, May 29. The second annual festival is collaboration between artists, churches, educators and community groups who have worked for years to preserve the memory of this lost city.
The festival presents a thoughtful, thorough and fresh look at one of Oregon's most tragic events while also exploring issues of housing discrimination, migration and displacement that continue today.
Vanport, a combination of the names Vancouver and Portland, was built in 110 days, was the second largest city in Oregon for five years, and destroyed in less than one day. The town was created as a short term answer to a 1943 housing crisis that was brought on by thousands of people moving to Portland to work in the shipyards during World War II. It was the largest war-time housing development in the United States. The population at its height was 42,000 with residents who came from 46 of the then 48 states.
The migration of people to work building liberty ships swelled the African American population of Oregon by five fold. One-third of Vanport's population was black and represented the largest migration of black residents to Oregon up to that time.
Though the walls of Vanport's buildings were not built to last, the city left an incredible legacy. Vanport was uniquely designed to serve both black and white residents as an integrated community where residents went to the same schools, community centers, movie theater and stores.
Vanport College which later became Portland State University was built for and first served homecoming veterans who lived in Vanport. It was the students and teachers of the school who sent out an emergency warning to residents to flee the flood of May 30, 1948, when a levee broke and a ten foot wall of water from the Columbia River began to swell.
There was little time for people to reach safety. The African American community relied for the most part on public transportation and the closest bus stop was two miles away. The wooden apartment buildings and their foundations were quickly picked up by floodwaters and floated away like match stick houses. People clung to the dark pitched roofs for their lives; parents waded through waist deep waters with children in their arms. Bodies floated down the Columbia River and in final reports, up to 17 lives were lost.
Options for relocating in Portland were difficult with racial discrimination and redlining practices in place and an already packed Albina neighborhood where black people were allowed to reside, but had few options to find homes.
The Vanport Mosaic Festival is designed to celebrate and preserve the individual stories and cultural nuances of Vanport with events throughout north and northeast Portland.
Performances of plays from the African American perspective will be at the Interstate Firehouse Cultural Center in tandem with a museum-quality exhibit of artifacts and photos collected from former Vanport residents.
Oregon Public Broadcasting's documentary on Vanport, "Lost City, Living Memories," and another independently-produced documentary "Priced Out" capturing today's legacy of housing displacement, will be screened during the festival. Vanport authority and history professor James S. Harrison will lead an education workshop with other local academics on curriculum development for teaching the history of Vanport.
One of the festival's founders and a self described story midwife, Laura Lo Forti will be hosting opportunities for Vanport and Albina residents to document their stories. Scheduled bus tours of Vanport are already sold out. You can download an app on your smart phone for self guided tours. There is also a bike tour and oral history performance titled "Gentrification is Weird." Most events are free or sliding scale. For a complete schedule of events and to make reservations, visit vanportmosaic.org.