Memories of Vanport
Survivor recalls flood and the aftermath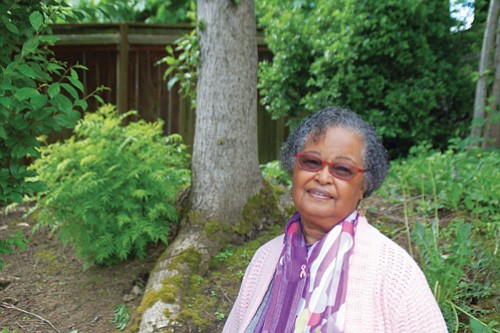 Marge Moss, a retired nurse and former employee at the Urban League of Portland, has been involved with the Vanport Mosaic Festival since its inception last year.
She was 12 when her family moved from the small town of Tallulah, Louisiana, to Vanport in 1944. Both of her parents worked in the shipyards and her father made extra money on Saturdays by giving haircuts for 25 cents a person. Her father, Ural Pete Moss was a church deacon at Vanport and also at the Vancouver Avenue First Baptist Church, one of the Portland area's historic African American congregations. On some Sundays after church, Moss and her family went to Vanport's popular 750 seat movie theater.
The family made a home in a standard Vanport apartment on a street called Broadacres, close to Denver Avenue. For Moss, who had lived most of her life in the South, Vanport was a positive and eye opening experience.
In the South, where segregation and Jim Crow Laws imposed a social and economic rule akin to the vestiges of slavery, Vanport offered the young Moss the experience of acceptance for all races. At school, in the community centers, grocery stores and movie theater people could move and sit where ever they liked.
In an interview with the Portland Observer, Moss remembered her Vanport interactions as friendly. No one had to sit at the back of the bus and no one had to drink from a designated water fountain.
"They didn't care about my color. We played together. The teachers were just fabulous," she said.
Outside of Vanport, a different reality existed for the black community. Signs hung in nearby Portland store windows saying: "No colored allowed. We serve whites only."
Moss's mother would go once a month to shop at the now closed Newberry's store downtown and as a treat would buy chocolate covered peanuts from the restaurant, but said only white people could sit and eat at the lunch counter.
Moss recalls with fondness the school she attended in Vanport with her brother and sister. Moss was given the nickname Caldonia after the Louis Jordan hit and the neighborhood boys would tease her with a lyric from the song: "What makes your big head so hard?" She took regular classes and enjoyed electives like home economics, sewing and basketball.
An experience in gym class brought back the memories of segregation she learned in the South. She fouled a girl in a game of basketball and suddenly became terrified that she wasn't supposed to touch white people under the norms of prejudice so prevalent at the time.
"All that came back from when we were living in Tallulah," she said. "I had wrapped my arm around a post and the teacher came by and said 'What's the matter, Marge?' I told her, I touched the girl and the teacher said: "That's okay. That's okay. It's just a game. I couldn't get the message and could not let go of the pole, but the teacher was so nice to me."