On Vanport's History:
Expert pens work about 'The Miracle City'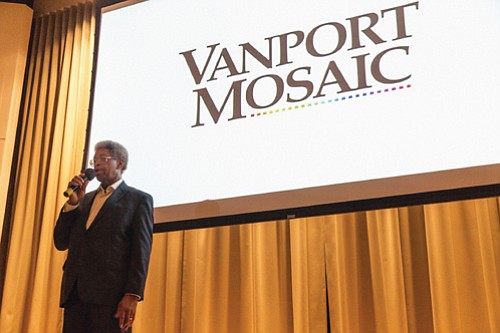 Portland Community College Professor James Stanley Harrison is the official historian for the Vanport Mosaic Festival taking place this long Memorial Day weekend at multiple sites in north and northeast Portland.
In 1998, Harrison walked into Terrell Hall on the PCC Cascade Campus and saw a large photo exhibit about the deadly flood in 1948 that wiped out a city with a large black population near Portland called Vanport. It was the first time, although Harrison had spent decades as a historian in African-American history, that he heard of the city.
Harrison has been filling in the gaps by spending the last 10 years researching and writing a new comprehensive book about Vanport. His account, with a first draft expected by the end of the year, will add to the only one official book on Vanport written in the late 1980's by Manly Maben, a teacher from Vancouver who was a witness to the Vanport Flood and primarily relied on accounts from the Housing Authority of Portland.
While Professor Harrison believes it's not possible to tell the whole story of Vanport, also called "The Miracle City" in one book, his documentation is bringing new insights about Vanport through his extensive research of other historical documents and interviews with former residents.
One of the myths Harrison wants to dispel is that Vanport was built hastily.
His research found that two major construction firms in Portland built relatively solid structures at Vanport.
"Quickly constructed, yes. But hastily, the term which I have seen, has a different implication," he said.
Harrison said Vanport had one of the most efficient yards for building Liberty Ships during World War II. Unlike earlier East Coast shipyards, Vanport had a team of welders, instead of riveters and they used a prefabrication assembly line method similar to the automotive factories that Henry Ford developed in Michigan. It would take an East Coast yard 6 months to finish one ship; Vanport once finished a ship in 14 days.
It wasn't just shipbuilding that changed, so did the opportunity for work. Before the war, black Americans could often find only menial jobs or employment as porters on the railway lines making around 40 cents an hour.
In Vanport, black workers learned a skilled trade on equal footing with other workers and could make up to $5 an hour, which is equal to around $12 an hour today. The first African American teachers in Oregon taught in Vanport schools and the first African American librarian in the state worked at Vanport. The city had four African American police officers, as well.
"It changed the nature of work and boosted salaries if you're looking specifically at black people," Harrison told the Portland Observer.
"Before that about 90 percent of blacks in Portland worked with the railroad," he said. "There were very few professionals. In fact, there was only one black doctor who was brought in specifically to minister to the railroad workers, but also to anyone else in the city."
But Vanport wasn't a utopia for African-Americans, Harrison said. The Housing Authority of Portland, for example, imposed de jure segregation. Portland's fear of outsiders and racism influenced the attitudes many people and politicians took towards the city and its residents.
Harrison traces his interest in history to being a student in high school in Harlem when he poured over books by African-American authors like Harlem Renaissance writer and poet Langston Hughes. Author Frederick Douglass, an escaped slave who taught himself to read and became an advisor to presidents, became his personal hero.
He began doing his own research in African-American studies in college and graduated from Hunter College in New York in 1967. He taught for almost 20 years at Portland area high schools before becoming an instructor at PCC.