Contributing to the Community
Church leader honored
5/30/2017, 3:56 p.m.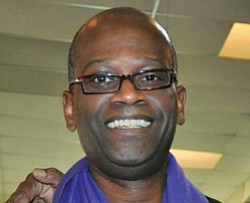 Raymond Burrell III was honored by his church and the community last week for his many volunteer contributions to the community and his achievements in life.
Over 200 people gathered at Vancouver Avenue First Baptist Church for the special celebration that drew many honored guests, including former Gov. Ted Kulongoski and Sen. Margaret Carter.
Burrell is a native of Portland who attended Woodlawn, Gregory Heights and Jefferson High School. He has had a long career in the retail clothing business where he became widely connected with a host of local social services agencies, working fashion shows and auction fundraisers.
His involvement and long association with Vancouver Avenue First Baptist has included work directing several of the church choirs. With his passion for African American history, he has served as an official church historian. In 2010, he became the author of the highly regarded book, "Vancouver Avenue First Baptist Church, Yesterday, Today and Forever."
In 2016, Burrell was successful in preparing and nominating the church as a National Landmark on the Register of Historic Places. He is currently working on preparing the documentation in getting the African-American Billy Webb's Elks Lodge in north Portland listed on the Register of Historical Places.