Cemented in History
Paratrooper unit honored with new marker
5/31/2017, 10:58 a.m.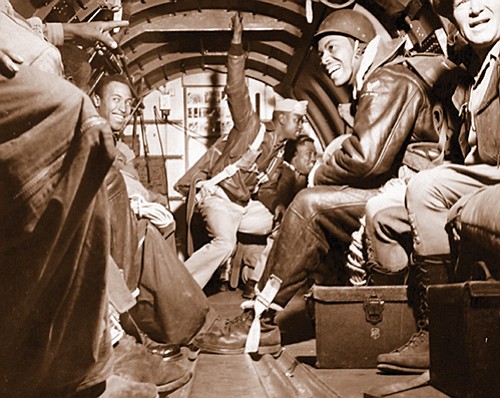 A new historical marker will be dedicated in Oregon Saturday to honor an elite, all-black paratrooper unit deployed to the state near the end of World War II.
The 555th Parachute Infantry Battalion, also known as the Triple Nickles, jumped their way into Oregon history in 1945 during a secret mission known as "Operation Firefly." Their charge was to parachute near forest fires in the Pacific Northwest caused by Japanese balloon bombs, and disarm and destroy any remaining explosive devices.
The men withstood many obstacles in their service to the U.S., including racism, lack of smoke jumping equipment, and a fatality in their unit during an Oregon jump -- Private First Class Marvin L. Brown. The new marker will also honor Brown's sacrifice.
Representatives of Oregon Black Pioneers and the Oregon Historical Marker Program will attended the dedication ceremony at the Siskiyou Smokejumper Base Museum located at the Illinois Valley Airport in Cave Junction.
"The work to uncover and commemorate the lives of men who served in Oregon as part of the Triple Nickles is a great accomplishment," said Oregon Black Pioneers Secretary Gwen Carr.
Roger Brandt of the Illinois Valley Community Development Organization was instrumental in the new marker's nomination, research, and funding process.
"Oregon has never formally thanked the 555th for their role in defending Oregon during World War II," Brandt said. "The 555th historical marker installation is taking the first step towards acknowledging their contribution to our state's history."