Healthcare Open Enrollment Begins
Most applicants qualify for financial assistance
11/3/2017, 1:53 p.m.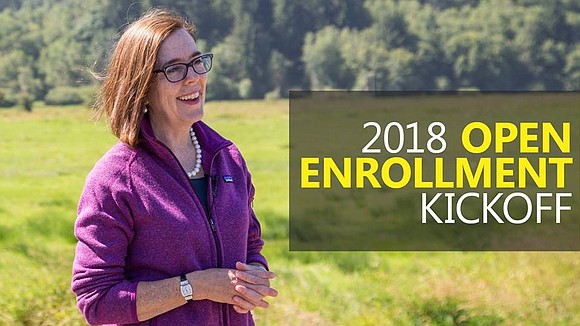 Gov. Kate Brown is highlighting the importance of health insurance and the local help available to Oregonians who wish to sign up for insurance in 2018 under the Affordable Care Act.
Beginning Nov. 1, Oregonians can sign up for, renew, or change their health insurance plans at HealthCare.gov.
"In Oregon, we want people to get health insurance," said Gov. Brown. "Already, 95 percent of Oregonians are covered and 100 percent of children have access. Now is the time to get health insurance if you don't already have it, and to re-enroll if you have coverage through HealthCare.gov."
Open enrollment -- for those who buy plans on their own because they do not have coverage through their employer runs through Dec. 15. It opens the door to change plans and, for those who do not have insurance, to buy a plan and avoid a potential penalty on their 2018 taxes.
Despite the ongoing debate about the nation's health care system on the federal level, health insurance and financial assistance, including special plans with lower out-of-pocket costs when getting care for those who qualify, are still available to Oregonians through HealthCare.gov.
The Oregon Health Insurance Marketplace, a division of the Oregon Department of Consumer and Business Services, provides local assistance over the phone and through a statewide network of health insurance agents and community partners. To get connected to free local help, visit OregonHealthCare.gov and click "Find local help."