Albina Visionaries
New non-profit offers plan for Rose Quarter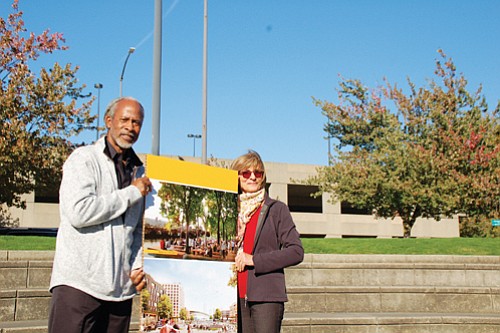 Santner and Alexander are optimistic that reuse of this public, tax-payer funded property, can be influenced by a community driven initiative like Albina Vision.
"We want to have an entity that will make [the city] listen to the community and do the right thing here," Santner said.
One possible hurdle that revitalizing the Rose Quarter may face is the widening of Interstate 5, which was approved by Oregon lawmakers earlier this year. The $450 million project would add a lane in each direction and add shoulders in the stretch between I-405 and I-84, smack dab in the middle of the Rose Quarter. That widening of the highway isn't stopping Santner and Alexander from pursuing their vision, but they said they will need to work around it.
"The discussion right now whether we widen or narrow I-5, we're agnostic on that. We just want it to be capped. I mean, because that gives us the opportunity to have land that allows you to walk right down to the water," Alexander said.
A redeveloped community would also stem the tide from gentrification that has displaced people from their historical neighborhoods over the past 20years.
Alexander, who used to direct the Urban League of Portland on North Williams Avenue and Russell Street, said he has seen the alterations firsthand since his move here in 2005.
"I mean you almost need a post card of 10 years back to have an understanding around what had been here, even in 2010, let alone 2000, 1990, and those years before. Just radically transformed," Alexander said.
Alexander grew up in Brooklyn, which stands alongside Portland as another famously gentrified part of the United States. But the changes he saw in his own childhood neighborhood are nothing compared to the "wide scale displacement" that has taken place here, Alexander said.
"We understand the new 'here' is going to be different than the old 'here'. But if it is honoring and embracing and inclusive, then we have an opportunity to now build in a way that unifies rather than divides. And I think that's the promise. We are there to make sure that woven into the DNA of this vision is the acknowledgement that this community needs to be reflected in whatever the rising phoenix is," Alexander said.