School board called out for 'betrayal'
Black leaders respond to Tubman's delay in opening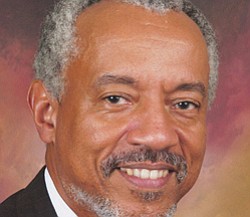 African American community leaders are calling on Superintendent Guadalupe Guerrero to "take steps immediately" to allow Tubman Middle School to open next fall, calling into question recent concerns over the safety of the building and grounds.
Guerrero is slated to address the issues when he attends a news conference on Thursday at Self Enhancement Inc. organized by leaders in the black community who are calling the potential second major delay on the re-opening Tubman by the School Board a "betrayal."
"It is our hope that [Superintendent Guerrero] will be able to bring the school board to its senses," Albina Head Start Director Ron Herndon told the Portland Observer. Herndon helped originally open Tubman in the early 1980s.
Joining Herndon in attendance will be Self Enhancement founder and chief executive Tony Hopson, and Dr. Leroy Haynes of the Albina Ministerial Alliance.
"Harriet Tubman Middle School is a very significant cultural landmark for the black community. Right now, this community does not have a middle school. There can't be a delay in Tubman's reopening. We just want to make sure that PPS understands how vitally important this is to our community," Hopson said in a press release.
Last month, the school board voted on an amendment that could possibly delay the opening of Tubman until the 2019-20 school year, an additional year from a proposed opening that was already delayed by a year. The reason was to give the district more time to study environmental hazards such as air pollution, due its proximity to I-5, and any possible foundational instability.
Tubman is a school with deep ties to the African American community and would be the only middle school serving kids in the historic black neighborhoods of inner north and northeast Portland if it were to open as proposed.
Last week, Portland Public Schools released on its website records of air pollution testing at Tubman, which was compiled in preparation of the Faubion K-8 school that occupied the building last year.
The records largely indicated no harmful levels of pollutants detected; a Department of Environmental Quality fact sheet, which summarized EPA monitoring of the school from 2009 to 2011, had air toxics measured as "below EPSA's level of concern." A February 2016 test for Cadmium showed "there were no detectable levels of either cadmium or arsenic reported for any of the air and soil samples;" and radon testing was completed in 2016 with the conclusion being "no radon levels met an action level, no further action is required for 10 years."
Air pollution from I-5 and claims that the school could slide into the freeway were both brought up to delay Tubman's original opening in the 1980s, Herndon said.