Out Front and On Point
Women of color share stories from elected office
11/22/2017, 11:17 a.m.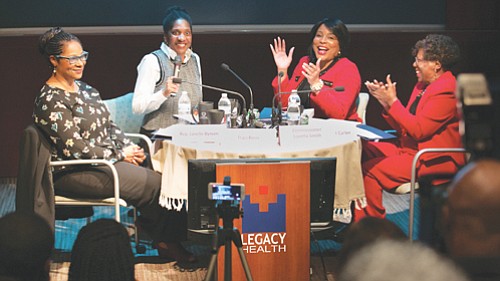 Each woman was one of the first people of color ever elected to their position. Often, they were the only one. And always, they were outnumbered.
But in a frank, funny and revealing roundtable, three local women of color shared what it was like to run, serve and survive in public office.
More than 50 people gathered last Thursday to hear moderator Traci Rossi, executive director of the Center for Women's Leadership, interview former state Sen. Margaret Carter, state Rep. Janelle Bynum of Clackamas and Multnomah County Commissioner Loretta Smith.
Carter was the first African American woman elected to the Oregon Legislature. Bynum, an electrical engineer who owns several McDonald's restaurants, is the first African American woman to represent House District 51, including east Portland. And Smith is the second African American woman elected to the County Commission and because of term limits is planning to run for the Portland City Council this coming year.
The trio spoke at the second of four Portland forums on race in the workplace inspired by the hashtag #Black Women at Work. The hashtag emerged in response to harshly personal comments made to Congresswoman Maxine Waters and CNN journalist April Ryan earlier this year after they challenged members of the Trump Administration. Rep. Tawna Sanchez (D-Portland) spoke up, and Sen. Lew Frederick (D-Portland) and Judge Adrienne Nelson also attended.
Topics ranged from how the elected officials got their start, managed their campaigns, balanced family life, dealt with negative experiences and handled comments on their appearance. Commissioner Smith spoke of the need to bring more, and younger, people of color into the workforce and into leadership.
"I stand on the shoulders of Gladys McCoy who served as a commissioner and county chair almost 30 years ago,'' Smith said. "It is my responsibility to make sure we get people of color in county government sooner than another 30 years.''

Rossi ended by saying, "I want to thank Commissioner Smith because I have been living in Portland and I have not been in a room like this for a long time,'' she said.
And several people said they left the meeting feeling hopeful.
"Oregon for all the problems, it really is a shining star,'' Bynum said. "You have women at the highest level of leadership you don't see anywhere else."
Thanks to Multnomah County for contributing this story.