Artist's Work Reflects on a New Generation
Celebrates diversity in east and outer east Portland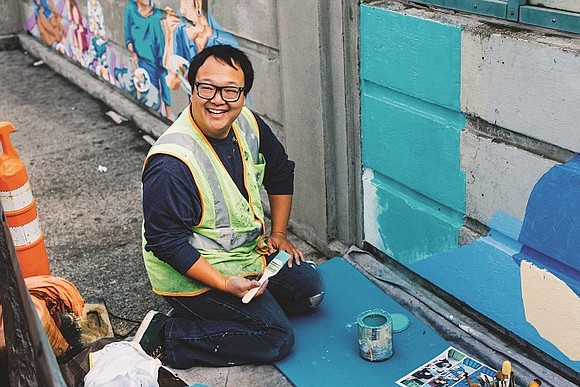 If you've caught the bus or train from the 82nd MAX station lately, you might've noticed some colorful changes. TriMet commissioned local artist Alex Chiu, 33, to do a mural there, which was completed this fall.
A son of Chinese immigrant accountants, Chiu said he tried to reflect the growing diverse culture and ethnicities of east and outer east Portland, which is where the station is located.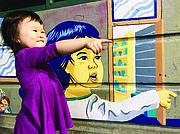 A professional painter, educator, and stay at home dad, he drew much of his inspiration from his daughter, who he saw as a symbol of the next generation, and painted her image as a reflection of that growing diversity.
Chiu also enlisted the help of representatives of the Asian Pacific American Network of Oregon, a community organizing group; the Morpheus Youth Project, which provides art and humanities activities like hip hop dancing, journalism, and painting to at risk youth; and the Immigrant and Refugee Community Organization.
East and outer east Portland have seen a rising number of ethnic minorities compared to the city as a whole, according to a 2013 study from Portland's Bureau of Planning and Sustainability.
"As an Asian American, I've felt and observed rising political and racial tension in America. The reason why I chose to paint a diversity of people is because the image of diversity is what I feel makes America a beautiful place. I believe that the US is a country that embraces all people. People of color and marginalized people deserve representation in all forms; television, movies, art, political office, and leadership positions. I hope to depict that in my artwork as well," Chiu said.
Chiu currently teaches classes for the public access cable TV organization Open Signal, including stop-motion animation for children, using iPads. He said he wants to do more public art pieces as well.

"I'm looking for more opportunities to…kind of highlight communities that need to be seen and need to be heard. I am looking to try to do more work along those lines and work for the community," Chiu said.
Alex can be reached through his website, alexdoodles.com, for more information.