Remembering Steve "Snapper" Jones
Local standout had impact in two pro leagues
11/28/2017, 4:49 p.m.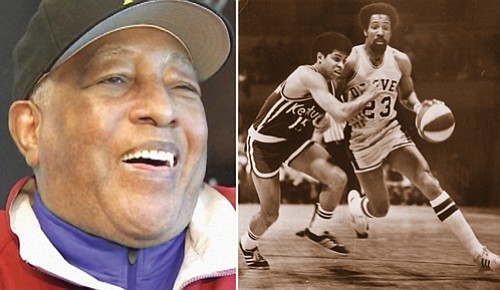 Steve "Snapper" Jones, former Portland Trail Blazers player, team announcer and later NBA broadcaster, died Saturday after reportedly battling a lengthy illness. He was 75.
Known as much for his work on the sidelines as his performances between them, Jones was a staple of the NBA on broadcasts. As a collegiate player, he played for the University of Oregon from 1961-64, leading the team in scoring during the 1963-64 season. Born in Alexandria, La., but raised in Portland, Jones was a standout player locally at Franklin High School, leading his squad to a state championship in 1959.
His younger brother Nick Jones, also a highly-touted player at Franklin and later Oregon, played for the Golden State Warriors and was a member of the Trail Blazers Community Relations staff for several years.
Steve Jones played 64 games in a Trail Blazers uniform during the 1975-76 season, averaging 6.5 points per game in what would be his final year as a player.
The bulk of his pro career was spent in the American Basketball Association where Jones was a three-time All-Star and played for five franchises. His nine-year ABA/NBA pro career spanned 704 games, with an impressive 15.2 points per game average.
His broadcasting resume included work for ESPN/ABC, TBS, TNT, Fox Sports Net, USA Network and NBC, where he was an analyst for the "NBA on NBC" for more than a decade. Jones was also part of numerous Trail Blazers broadcasting tandems, including Naismith Memorial Basketball Hall of Fame honoree Bill Schonely.
"Steve was as positive and good-natured a broadcasting partner as I could have had," said Schonely of Jones, who would be a broadcasting fixture with the Trail Blazers for 26 years. "He loved to call me 'Pops' as a nickname, and we worked very well together on Trail Blazers games during some of the early years of the franchise. He was a terrific guy."
In March 2012, Jones was honored at center court of the then Rose Garden arena (now Moda Center) by the Trail Blazers for his years of service to the franchise as a player and broadcaster.