Winters Named Minority Leader
11/30/2017, 2:29 p.m.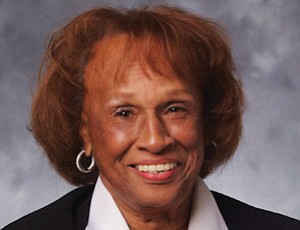 Sen. Jackie Winters, a long time African American lawmaker and business owner, has become the first black lawmaker to head one of Oregon's major political caucuses.
Winters, a Republican representing the Salem area, was named Minority Leader this month by a vote of her party colleagues in the Senate.
She becomes one of just a few black women to hold a caucus leadership position nationwide, and also is Oregon's longest serving lawmaker, fist elected to the House in 1999.
Winters was elected to the Senate in 2003 where she rose to be vice chairwoman of the committee that writes the state budget, the Ways and Means Committee.
She most recently has battled health problems, a heart attack in 2016 and lung cancer, and is continuing treatment for cancer.
The pick has drawn praise from Democratic leaders in the Legislature, where their own Majority Leader is also a woman, Ginny Burdick.