Author Picked for Everybody Reads
Hohsin Hamid writes on displacement and migration
10/3/2017, 1:49 p.m.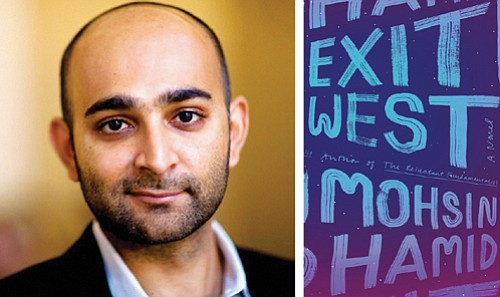 Multnomah County Library's annual community reading project will feature the novel "Exit West,' from acclaimed writer Hohsin Hamid, this year's featured book and author for "Everybody Reads 2018."
"Exit West" tells the story of Nadia and Saeed, who begin their love affair against an increasingly unsettling backdrop of unrest and violence. As conditions worsen, the scope of human displacement and migration begins to envelop them as they seek ways out.
"Exit West examines many of the questions – of safety, fate, belonging, otherness – that surround us today," said Vailey Oehike, Multnomah County Library director. "Moshin Hamid takes concepts that we sometimes treat in abstract or clinical terms and washes them in humanity to help us think and feel differently. Exit West is an incredible work."
Hamid is a Pakistani writer and author of four novels, Moth Smoke (2000), The Reluctant Fundamentalist (2007), How to Get Filthy Rich in Rising Asia (2013), and Exit West (2017), and a book of essays, Discontent and Its Civilizations (2014). His writing has been featured on bestseller lists, adapted for the cinema, shortlisted for the Man Booker Prize and the PEN/Hemingway Award, selected as winner or finalist of 20 awards, and translated into 35 languages.
Extra copies of the books will be available in February at all neighborhood libraries, and e-books will be downloadable from the library catalog. Beginning in February, readers will be encouraged to share your thoughts at a book discussion at your neighborhood library or bookstore with dates to be announced soon.
Hamid will be in Portland to speak on April 5 at the Arlene Schnitzer Concert Hall. Tickets available from Literary Arts at literary-arts.org.