Business Starts with Soul Food
Young entrepreneur follows his dreams
10/3/2017, 1:12 p.m.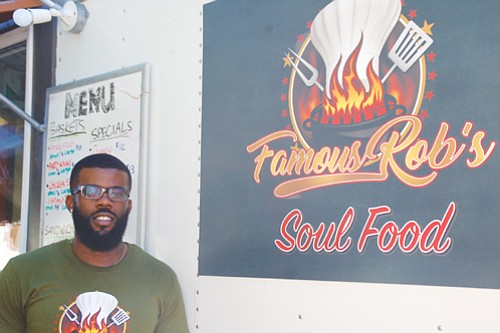 Famous Rob's Soul Food, located next door to the black Masonic Lodge at North Mississippi and Fremont is excited about bringing soul food back to its roots.
Young entrepreneur and chef Robert McDonald Jr. opened the food cart in April, specializing in making soul food favorites using top ingredients, fresh produce and farm raised meats.
"Our southern cuisine consists of special home-made recipes that will have you feeling like every meal is Sunday dinner," he said.
A former American Ninja Warrior 2017 competitor, McDonald strives to inspire the youth in the community to strive for greatness. His vision is to be a role model to the youth and show them that no matter your circumstances you can overcome and do great things.
"My ultimate goal is to open a Soul Food lounge," he said.
All dishes are made to order.
"We provide a friendly atmosphere where our customers are our top priority," McDonald said. "We aim to satisfy and have you coming back for more."
Famous Rob's Soul Food also does special catering events for birthdays, weddings, holiday parties, and any other event needing food services. Located at 3503 N. Mississippi Ave., Famous Rob's Soul food is open Tuesdays through Fridays, from noon to 8p.m. and Saturdays and Sundays from 11 a.m. to 7 p.m.
For more information, or to place an order, call 503-875-3018. You can also email famousrobscatering@gmail.com.