Diversity Matters at Portland Community College
Recruiter hired to advance equity in hiring
10/3/2017, 1:41 p.m.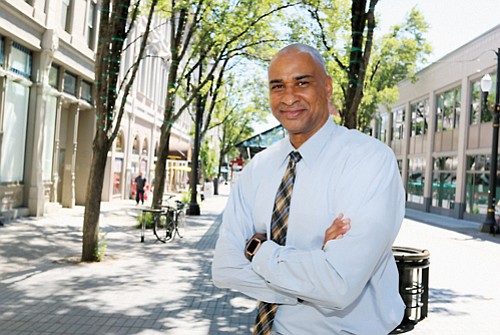 Gregory Dockery was hired as its first diversity recruiter at Portland Community College last December, a position in the college's human resources department for increasing the number of qualified diverse professionals for appropriate staff, management and faculty positions at PCC.
"I see my efforts directly related to PCC's mission," Dockery said.
PCC President Mark Mitsui's work plan for the next two years is centered on equitable student success. It is supported by the tenet that a more diverse workforce will add value to the students' educational and personal experience while reflecting the diversity of PCC's student body.
"I enjoy interacting with diverse professionals regarding detailed employment information, assisting them and answering their questions throughout PCC's application process," said Dockery. "And in my recruiting practice, I emphasize the tremendous contribution and impact that diverse employees make to support students so that they reach their educational goals. This is a contribution that is both crucial and highly respected throughout the college."
PCC has initiated two programs to recognize and underscore the importance of a more diverse workforce. The first program is led by the college's Human Resources Recruitment team, which provides search committees with training designed to value diversity, recognize unconscious biases, and emphasize the significance of inclusion in the hiring process.
The second program stems from a partnership between PCC's Human Resources Employment Services team and the college's Office of Equity & Inclusion. Called the Inclusion Advocates Program, PCC employees are encouraged to sign up for a full day's training to become inclusion advocates. In this role, they become integral to the college's screening committee process and help to ensure an equitable and inclusive hiring process for all candidates.
"Collectively, these are several positive steps the college has taken to prioritize equity and diversity at PCC," said Dockery. "Together, they are helping to put equitable student success at the center of everything we do at PCC."
To connect with Dockery or for more information about diversity recruitment, contact him at gregory.dockery@pcc.edu or at 971-722-5866. All interested potential job applicants can view PCC's current employment opportunities at pcc.edu/jobs.