Equity and Inclusion in Practice
Convention hotel requires a diverse workforce
Dana Lynn Barbar | 10/3/2017, 2:06 p.m.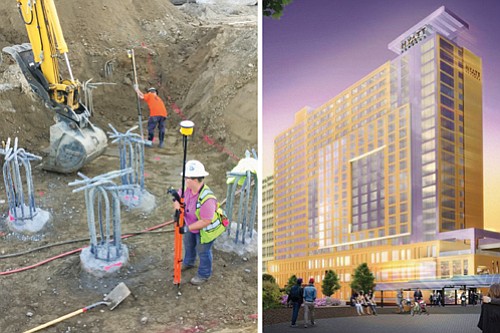 An agreement between public and private parties to create jobs and employment opportunities for diverse populations during and after the construction of Portland's first major convention hotel is a leading example of workforce equity and inclusion in practice.
Slated to open in late 2019, the new Hyatt Regency Portland at the Oregon Convention Center will establish the city of Portland as a destination for larger conventions and events, bringing in more visitors and strengthening the regional economy by an estimated 30 percent, according to Metro, the regional government agency sponsoring the project.
Ground-breaking for the hotel took place Aug. 4 and construction on the 600-room, LEED certified hotel is now underway. The project is overseen by Hyatt, Mortenson Construction, and Metro, which owns the Oregon Convention Center located directly across the street from where the new hotel will be located.
The construction will bring in an estimated 2,000 jobs, while the opening and staffing of the hotel will require an estimated 950 hospitality and tourism jobs.
Metro and Mortenson Construction are leading the effort to ensure job creation and employment opportunities for diverse populations during the project. Together, they implemented a workforce development plan to improve access to trade careers for minorities.
The workforce equity goals are to employ 30 percent people of color, 15 percent women, and 20 percent from apprentices in the trades, according to Karol Collymore, communications and policy development program manager at Metro.
Officials are optimistic they will achieve the hiring goals. Hyatt and Metro representatives are committed to meet monthly and get monthly reports to track progress. They have made generous contributions totaling $450,000 to increase the number of women and people of color in the trades, developing the Construction Apprenticeship Workforce Solutions program. And in late August, the companies held a Contractor's Open House for women and people of color for the upcoming wave of work expected.
Once the hotel is built, a First Opportunity Target Area program for residents in selected zip codes of north and northeast Portland will allow for economically disadvantaged people to apply first for eligible jobs at the Oregon Convention Center and other public facilities Metro operates in the city. Hyatt has agreed to recruit from within the same target area.
The convention hotel project is almost 30 years in the making. Equity has become an important piece of the puzzle for both Mortenson and Hyatt, especially as they build in a Rose Quarter and Lloyd District neighborhood that was gentrified.
"Homes were taken and that wealth does not get easily replaced, if replaced at all, so we have to be strong in our commitment to make sure that economically diverse communities get a chance to have a crack at work," Collymore said.
Mike Clifford, construction executive at Mortenson, echoed that sentiment. "We want this to be a project for the community, by the community," he said.

Because the hotel is both a public and private project, it makes for an opportunity to be beneficial for everyone involved, according to the supporters. On the private side, Hyatt has a chance to operate a successful hotel, and on the public side, the Convention Center has a chance to generate more business and thus enhance the local economy.
"This project should be the tide that raises all boats," Clifford said. "It's going to be a catalyst for the Lloyd District, and we look at this as being something that should be a big boon for just about everybody."
Added Collymore, "The economic success of people of color, or low-income folks, or women, is the economic success of the entire community."