Light Bulb Lady Builds a Community
Kay Newell says 'knowledge and service' has no glass ceiling
Zachary Senn | 10/3/2017, 2:17 p.m.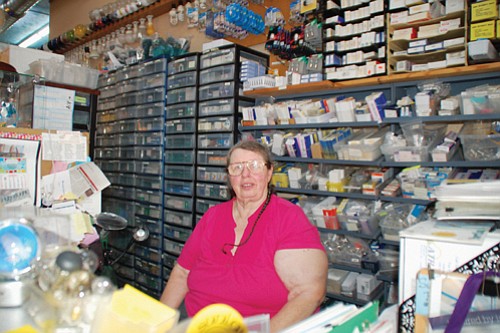 Kay Newell has been making North Mississippi Avenue a brighter place for people and business for the better part of three decades. The owner of Sunlan Lighting, Inc. has been a mainstay of the neighborhood since she first opened her iconic light bulb shop in 1989. She has been using her passions for puns and light bulbs ever since to make the neighborhood a safer and more welcoming place.
Newell describes Mississippi Avenue of the early 1990s, where she first established her shop, as the most dangerous place in Portland.
"You could buy every vice you wanted in this community," she told the Portland Observer. The elevated levels of drug trafficking and violence at the time made it impossible for her to uncover the windows of her shop. This led her to paint the avenue's first murals.
Two of her original murals are still visible on the Sunlan building today. After it became safe enough to do so, Newell began decorating the insides of other windows with her now-infamous displays of toys and quirky light bulbs.
"We opened up this window and created another display I filled the windows with toys that I changed out every month to give the little kids something to look at," she said.
Recently, community members who grew up in the neighborhood during the height of its disrepair have begun thanking Newell for providing the community with a bright spot amidst all the blight.
"I did it because it made me feel good, to see the kid's happy little faces," said Newell. "But it made an impact. It made me realize that we do things without realizing how the ripples are going to affect our entire society."
Newell's clients include some of Portland's most iconic firms, including the Portland Spirit. She first sold specialty light bulbs strictly to other businesses, until she decided to open her shop up the public.
As a woman in the world of business, Newell says that she continues to hone in on her knowledge of her products and has an innate ability to provide customers with a high-quality customer service experience.
"There's one area where there is no glass ceiling – knowledge and service," Newell explained. "When I started my business, I didn't know a whole lot," Newell said. "But I studied until I did."
Newell adds that the success of her business is rooted in her ability to treat her customers with respect, and offer them competitive rates.
"People want good service and knowledge, and they want to be treated fairly," Newell said. "That means good prices for good service. That's all it is."
Today, Sunlan Lighting, Inc. continues to delight Portland's business community, residential customers and tourists alike. Newell greets every customer who walks through her doors with a simple question:
"How I can I light up your life?"