Trusty Cleaning Service for 19 Years
Thomas Martin looks back at how it all started
10/3/2017, 12:02 p.m.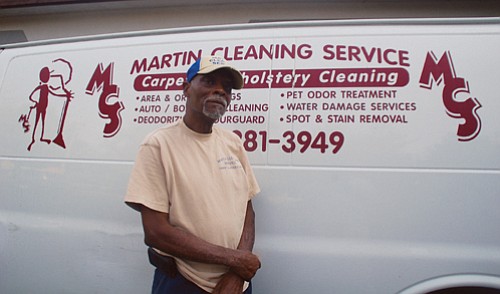 Thomas Martin, owner and operator of Martin Cleaning Service, doesn't plan to retire until next year in 2018 and no date has been set when exactly that will happen.
We regret that in our coverage of the Portland business owner in our Oct. 4 Minority and Small Business special issue (Trusty Service for 19 Years) readers were left with the incorrect impression that the retirement had already happened.
Martin says he's still available for all your carpet and upholstery cleaning needs by calling him at 503-281-3949.
When Thomas Martin retired from the federal government he found a way to start his own business. Today, the owner and operator of "Martin Cleaning Service – Carpet and Upholstery Cleaning" can look back at the benefits of being his own boss and the success he had in developing a business without a lot of competition and start up costs.
He said he was surprised that there were not many brothers in carpet cleaning at the time.
Martin is now on a path to retire again sometime next year after 19 years in the business, serving the Portland and Vancouver areas. He has been an advertiser with the Portland Observer for years.
On retiring and putting away the trusty carpet cleaning tools and equipment for good, he said, "The time has finally come."
His advice for those who want to grow a business is to work hard and apply yourself.
Martin thanks all his customer past and present. To contact Martin Cleaning Service, call 503-281-3949.