Ethnic Roots Flavor Craft Brewing Scene
Family-owned Vinn Distillery makes popular Chinese spirit
Zachary Senn | 10/4/2017, 10:56 a.m.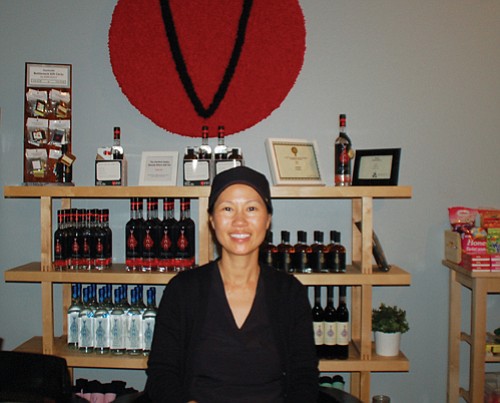 Vinn Distillery is bringing a unique and delicious product line to Portland's vibrant craft distilling scene. The family-owned business is the only U.S.-based distiller of baijiu, a popular Chinese grain spirit. The Ly family has been making the liquor for more than seven generations.
Vinn Distillery serves up tasting flights and Asian-inspired cocktails at their tasting room in the Central Eastside, and at several area restaurants. Their flagship baijiu product is sold at liquor stores throughout Oregon, as well as in select parts of Washington and California.
The Ly family, who formerly owned the Wok Inn Restaurant in Wilsonville, first became interested in bringing their distilling traditions to the U.S. when Michelle Ly's father couldn't find baijiu to use for cocktails in their restaurant.
Many years later, the family sold the restaurant and began the process of establishing their Portland distillery.
Michelle Ly says that they set up manufacturing in the back of her mother's house after four years of preparation and filing paperwork through state and federal liquor control commissions.
"It's rent-free, which is fantastic," Ly told the Portland Observer.
Michelle, four of her siblings and her mother are all actively involved in the business' daily operations.
Baijiu also played a role in the family coming to the United States 37 years ago. Ly says that she and her siblings were born in a village in North Vietnam, where they were forcibly relocated by that country's communist regime.
"Because of our Chinese heritage, we were kicked out of the country. They put us in a village in southern China," Ly said.
Her father's sun-darkened skin attracted attention in the village, however, where the locals learned that he had previously worked as a fisherman off Vietnam's coast.
"It's very rare to find somebody who knows how to navigate the seas," said Ly. "They invited him over to dinner, got him drunk on baijiu, and talked him into escaping."
The family fled China by boat with the rest of the village's escaping residents, Ly says.
"We escaped, 70 people piled into this fishing boat that the whole village bought," she said. "Our ticket on the boat was our dad's ability to sail the ship."
The family eventually landed in Wilsonville, where they were sponsored by a local church. Ly says that they have felt incredibly welcome in Oregon, and have spent the past three and a half decades establishing their family in the state.
Since selling their first bottle seven years ago, the family has been working hard to increase the liquor's name recognition. Despite its lack of rapport in the United States, baijiu is actually the most widely consumed spirit in the world, with more than 5 billion liters sold worldwide in 2016.
"When we first started back in 2010, if you said the word baijiou, 98 percent of people were unfamiliar with it," Ly said. "It was really challenging."
She says that the alcohol, which is traditionally consumed at room temperature with food, makes for great cocktails and possesses a flavor that blends with the more common consumed liquors.

"The flavor profile is really different," said Ly. "It's a marriage between sake, tequila, white whiskey, a little bit of vodka, a little bit of gin and a little bit of rum."
Vinn Distillery operates a tasting room at 222 S.E. Eighth Ave. Hours are Fridays, 1 p.m. to 4 p.m.; Saturdays, 12 p.m. to 5 p.m.; and Sundays, 1 p.m. to 5 p.m. Private group tastings are available with advance notice.
For more information, you can call the business at 503-807-3826.