Mission-Alligned Banks Merge
Albina turns to Beneficial with combined resources
10/4/2017, 9:49 a.m.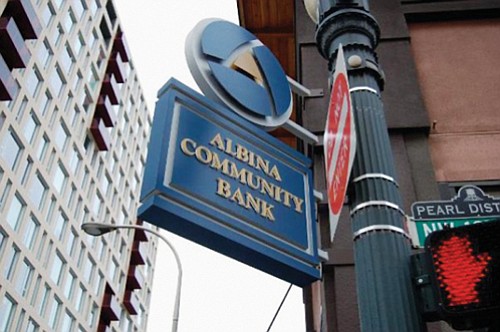 Albina Commuinity Bank, a financial institution in Portland created to help finance economic development projects from disadvantaged and ethnically diverse individuals and communities, will merge with another mission-alligned bank, Beneficial State Bank.
Representatives for the financial institutions announced Monday that mission-driven banking in Portland will pick up steam with a signed agreement to merge Albina Community Bank into Beneficial State Bank.
Beneficial State Bancorp, Inc. (Bancorp), the holding company of Beneficial State and Albina, reached an agreement to purchase the remaining 9.9 percent of the stock of Albina not owned by Bancorp.
The merger, currently targeted for the first quarter of 2018, will create a powerful organization that combines and amplifies the impact of Albina's proven community banking model with Beneficial State's mission to transform the banking industry for good by creating equitable access to financial services, officials said.


Bancorp acquired a 90.1 percent share of Albina in 2013, helping to recapitalize and stabilize the respected and fellow community development financial institution following a period of industry turbulence.
"We recognized and wanted very much to help preserve the positive impact and legacy of Albina's longstanding community banking model, knowing it plays a critical role providing capital to underserved Portland entrepreneurs and individuals," said Randell Leach, chief credit officer of Albina and president of commercial banking at both Albina and Beneficial State.
The resulting unified bank will retain all Albina's staff and five branches and ensure continuing excellent mission-driven customer services and community support. United in their mission to serve market segments which are unique, often-neglected and sometimes exploited, the combined banks will expand services. Albina's Sue Campo will remain in her role as president of Albina as the two banks prepare to unify and carry on in a leadership role thereafter.
"As a person who was raised in the Albina neighborhood and one who has served on the Albina Community Bank board, I am pleased that this merger will bring a mission and the resources to serve individuals, families and businesses that have not always found open doors in banking communities," said Kay Toran, a longstanding member of the Albina Community Bank board. "A united Beneficial State and Albina will keep this population as a top priority."