Work with Minority Firms a Model
TriMet spreads economic stimulus across the board
10/4/2017, 10:04 a.m.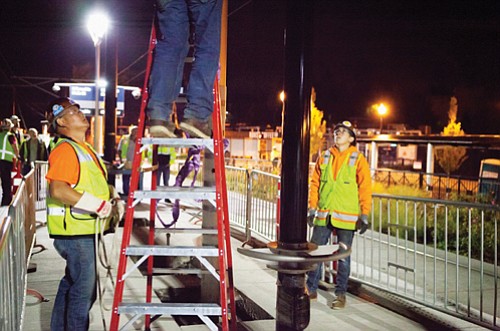 TriMet's long standing commitment of encouraging and supporting businesses owned by people of color and women when competing for TriMet contracts on transit construction projects has become a national model.
Construction of the newest MAX light rail route, the Orange Line, was a boon for employment, creating more than 7,000 direct and 7,300 in-direct jobs, according to TriMet officials. Figures show nearly 600 private sector firms performed work on the project, including 134 Disadvantaged Business Enterprise (DBE) firms. Of those companies, 32 were owned by women.
Raimore Construction, a black-owned business from northeast Portland and a member of the DBE program, recently completed a shelter expansion on the Orange line which carries commuters between downtown Portland and Milwaukie.
Company president, Jeff Moreland called it "one of the most critical projects" in company history.
"At least 80 percent of the work performed on this was completed by DBE firms," he said, "creating many new jobs for women and people of color."
TriMet's Blue Line station rehabilitation project this summer to rejuvenate the Gresham City Hall MAX station employed eight DBEs, officials said, with additional work moving to the 122nd Avenue MAX station later this fall.