Angered by Racist Graffiti
Advocate looks to solutions; security video shows suspects
Danny Peterson | 10/10/2017, 4:08 p.m.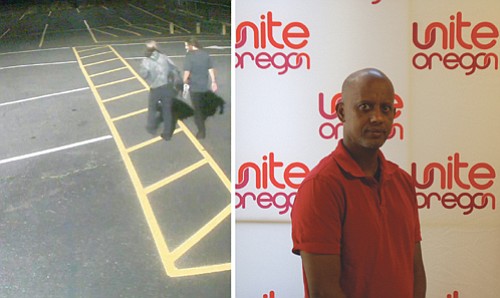 Kayse Jama was angry when he found out his child's school in northeast Portland was smeared with racist graffiti.
The executive director of Unite Oregon, a statewide social justice organization, and a recent candidate for the state Legislature, Jama told the Portland Observer that Oregon needs long term and specific solutions to fix systemic racism in order to prevent crimes like this in the future.
"Education and dialogue are really important. But I think we have to look beyond dialogue and having a conversation," he said. "We have to really deal with the racism, systematically. That includes really making sure our students are culturally competent first. They also have the policy and procedures that protect people."
A total of four elementary schools in the east Portland David Douglas School District have been hit with racist graffiti in the past two weeks and police suspect the same two culprits, two men in their 20s or 30s, for all four instances.
Menlo Park Elementary School was the first to get tagged back on Sept. 28. Security video shows it happened around 1 a.m. Three more schools were hit with similar graffiti last week, Mill Park, Ventura Park and Lincoln Park Elementary Schools.
"As a parent, I am angry and saddened this hateful incident targeted our precious children and our school, Jama said, shortly after the attacks. "Sadly, this type of hate is becoming more common—across the country and particularly in Oregon—due to the current political climate."
Oregon recently was identified as the No. 1 reporter of hate crimes in the nation, according to a report from ProPublica.
Jama's comments were echoed by State Rep. Diego Hernandez, a lawmaker from outer northeast Portland who formerly served on the adjacent Reynolds School District.
"Schools are meant to be safe places for our students to learn and feel welcomed. This is an appalling and offensive display of ignorance and we should all stand together in denouncing racism and hate," said Hernandez.
For anyone with information about the graffiti or the suspects, you're encouraged to call the non-emergency phone number for Portland Police, 503-823-3333.