Trauma and Justice
Offender rehabilitation takes mental health into account
Zachary Senn | 10/10/2017, 4:48 p.m.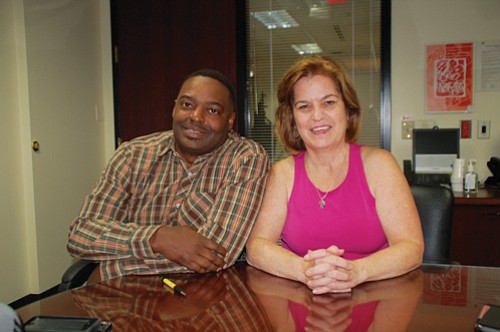 A new type of parole and probationary care is being exercised in Multnomah County. Called trauma-informed practices, it seeks to rehabilitate people based on how their personal experiences and brain development have shaped them, with the aim of helping the county reduce its reliance on the jail system.
The Smart Supervision Project is a pilot program that has incorporated trauma-informed practices into the supervision of offenders who are between 15 and 25 years of age. Dr. Alisha Moreland-Capuia, a psychiatrist from Portland's African American community and who specializes in trauma-informed practices, says that it is necessary to recognize the role trauma plays in people facing the consequences of their behavior.
"If you were to take a look at persons who have been entangled with the law, one consistent thing that you will find is trauma," Moreland-Capuia told the Portland Observer.
Trauma from long-term stresses, like racism and poverty, can adversely affect the development of the brain, she said, describing people who have experienced significant amounts of trauma as having difficulty accessing their cortex, which is the portion of the brain responsible for checking impulses and controlling reactions.
"Over time, stress that is untreated and unmanaged becomes trauma," Moreland-Capuia said. "That trauma, when not dealt with, becomes toxic not only to the body physically, but also impacts mental health."
Trauma-informed practices, she said, help individuals access the more critical portions of their brains.
"What trauma informed practices do is help individuals get out of the bottom part of their brain, and use that top, more critical part of the brain," Moreland-Capuia said. "That's where the healing takes place."
For victims of racism, there can be a long-term fear of discrimination.
"They are under a situation where they're in toxic stress," Moreland-Capuia said. "They're always looking out for their own safety, but they also have to be constantly concerned about what might happen as a consequence of someone else's racism."
The basis of trauma-informed care is creating a safe environment in which clinicians and caseworkers can understand the root causes of an individual's trauma.
In clinical contexts, trauma-informed practices have helped psychiatric specialists address a wide range of mental health concerns. Moreland-Capuia said that the county is porting long-standing clinical practices to the criminal justice world.
"This idea of creating safety allows us to more effectively treat folks," she said, "and more effectively move them down this path to healing."
Multnomah County's implementation of trauma-informed practices stems from a grant the county received from the John D. and Catherine T. MacArthur Foundation that was designed to help the county reduce its reliance on the jail system.
The county reached out to Moreland-Capuia to give Master's-level training in trauma and the implementation of trauma-informed practices for parole and probation specialists. She has also been working with the county's judges, to inform them about the place of trauma-informed practices during sentencing proceedings.
Kate Desmond, community justice manager for Multnomah County, says that in every-day practice, trauma-informed care is allowing her caseworkers to empathize more with their clients.
"What I've noticed is that we are being much more patient," Desmond told the Portland Observer.
Keith Murphy, a caseworker for the county and a member of the pilot program, says that for many justice-involved individuals, approaching their caseworkers can be a challenging experience. He added that the use of trauma-informed practices is making it less intimidating, however.
"It's just a stressful experience coming into our offices at times," Murphy said. "With trauma-informed practices, there's a better rapport."
Having more in-depth conversations with their clients is allowing parole and probation officers to achieve a deeper understanding of their behaviors. Desmond and Murphy say that they will try to gain an understanding of everything that their client has experienced, starting from the moment of their birth.
"Your brain develops a certain way, and that starts in-utero," Murphy said. "We're going under the hood, so to speak."
Desmond added that this enhanced understanding is helping the county reduce its use of the jail system, and use a more thoughtful approach to punishment for those who run afoul of the law.
"If you think about who's in jail, it's mostly anti-social people," Desmond said. "You're exposing them for 72 hours to a week to all anti-social people."
Desmond said that house-arrest, GPS monitoring and community service are all viable alternatives to a stint in jail.
"You just can't arrest away your social problems," Murphy added.
Moreland-Capuia expects that addressing trauma will help to reduce recidivism rates, and focus the county's efforts on transitioning offenders permanently out of the criminal justice system.
"Helping to manage trauma is going to be key in helping people move along their path to healing," she said. "Getting better, and staying better."