An Unusual Ally
Police leader defends NFL protests
Danny Peterson | 10/10/2017, 4:44 p.m.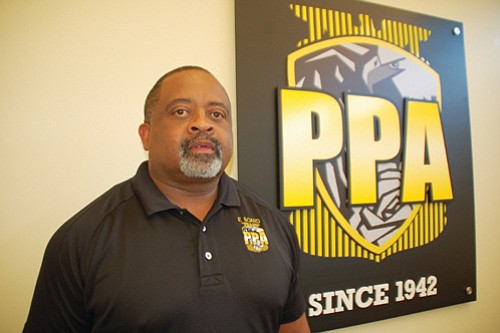 Civil rights advocates don't often count on police as allies in their efforts to bring about social and political change. But the controversy over the silent protests by NFL players during the playing of the Nation Anthem at NFL games has the leader of Portland's police union siding with the players.
Daryl Turner, a black member of the Portland Police Bureau and a representative for the association representing officers in collective bargaining, is speaking out to defend the right to protest, both as citizens and employees of the NFL, not necessarily in support of the content of their demonstrations.
Turner also is the current President of the United Coalition of Public Safety, a group comprised of nine major law enforcement associations across the country, including Portland Police Association, Seattle Police Officers Guild, and San Francisco Police Officers Association.
Turner says the reactions he's gotten from other police officers in Portland about his stance have been mostly positive.
"I think mostly our members understand that the best way to dispel false narratives is to sit down and have a conversation," Turner said.
Turner has reached out to members of the NFL including the players association and the owners and is waiting on a response back from them to organize a round table discussion.
He said players should have the right to protest both as citizens and employees of the NFL. A former member of the military, he stressed that it's his job to protect the rights of others, including the right to free speech.
"Our First Amendment rights are fundamental to who we are as a nation and the hallmark of our liberty. It is time we stop pointing fingers and fueling division, issuing threats, and denigrating those exercising their opinions. If we don't start talking with each other, rather than talking past each other, we will never solve issues facing our communities and police forces," Turner said.
At its peak, around 200 NFL players kneeled rather than stand for the National Anthem last month to conscientiously object to police brutality against African Americans and other issues of racial inequality. The demonstrations came just days after a comment from President Trump to a mostly white audience condemning the mostly black players' participation in the protests.
"Wouldn't you love to see one of these NFL owners, when somebody disrespects our flag, to say, 'Get that son of a bitch off the field right now. Out. He's fired. He's fired!" Trump said at a Sept. 22 rally in Alabama.
Opposing that kind of rhetoric, Turner stressed the importance of players' rights as members of a collective bargaining union.
According to City University of New York Law Professor Marc Edelman in a Forbes op-ed, there is little evidence to support it would be legal for an NFL team owner to fire a player for this kind for peaceful demonstration, since the players are under contract.
Players' collective bargaining agreement calls for a formal arbitration process in the case of firing a player, so even if owners did level a complaint against a player, the firing would not necessarily happen by the owner, Edelman said.
In 2016, black males aged 15-34 were nine times more likely than other Americans to be killed by law enforcement in police actions, according to a racial disparities report, The Counted. They were killed at four times the rate of young white men.
Though the number of deaths caused by police has fallen slightly since the fatal shooting of Michael Brown in 2014 -- the unarmed black man in Ferguson, Mo. whose death sparked protests in Ferguson and across the country -- there were 1,091 deaths caused by police recorded in 2016, and 169 of those deaths were people who were unarmed.
Turner would like to see a conversation between all representatives of the NFL and on a national scale to start the process of finding solutions.
"As an African American and a police officer, I see both sides of the coin," Turner said.