Access Gifted School Protests Closure
Academy faces breakup after KairosPDX saved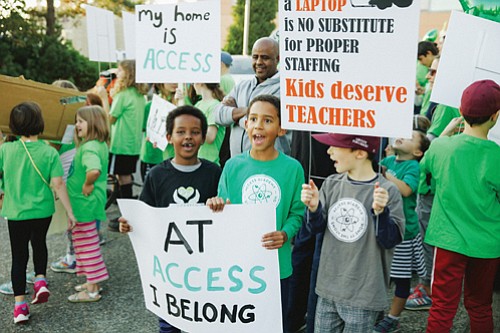 Students, teachers, and parents of Access Academy gathered outside the administration building for Portland Public Schools Monday to keep their diverse school intact and reject a new proposal to split Access's students across eight schools.
The latest plan avoids the potential displacement of KairosPDX, now home to a public charter school serving mostly African American students at the former Humboldt Elementary on North Gantenbein Avenue in the heart of the African American community.
Last month, Portland Public Schools proposed moving Access to Humboldt thereby forcing KairosPDX to find another home. But the proposal fell through after much criticism from the black community and public officials, who decried the move as a form of displacement and gentrification. Some Access parents also expressed disinterest in the move, saying the school on North Gaintenbein Avenue was too small for their first through eighth grade students.
Access is currently located in the former Rose City Park school in northeast Portland, which is being prepared to be reopened as a neighborhood school as part of a massive refiguring of schools for the east side of Portland adding two new middle schools, including the former Harriet Tubman Middle School in north Portland.
A new proposal would dissolve Access' 335 student body into several schools beginning in the 2018-19 school year.

Students chanted "we need Access, don't split the Atoms" (the Atoms are the school's mascot) as they waved signs in green school t-shirts during Monday's protest.
Jennifer Ellis, the school's parent-teacher association president, said the Access program, which caters to "talented and gifted" students was designed to work best when their students are under one roof.
"Access is an alternative program serving students who have highly accelerated learning needs and who have demonstrated a need for a cohort-driven approach to supporting their social/emotional development," Ellis said.
The PPS board is set to vote on the proposal to split up Access on Oct. 24.