Healing and Making Good
Past and future intertwined in Hill Block development
Danny Peterson | 10/17/2017, 4:41 p.m.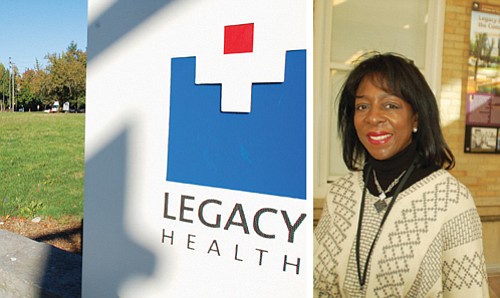 Plans to finally develop an empty lot that has long represented a sore spot in the heart of Portland's historic African American community is taking some root, but the details are far from formalized as community conversations and public input is still being gathered.
The 1.7 acre block at North Russell Street and Williams Avenue was demolished in 1969 by the city's Portland Development Commission, now called Portland Prosper, as part of an urban renewal project that included the construction of Interstate 5, the Oregon Convention Center, and Legacy Emanuel Hospital.
Lost in its wake, was a predominately black community and many black businesses, including apartments, a drug store and dry cleaners. It was a familiar trend that was going on at the time around the nation in so called "blighted" neighborhoods.
The Hill block was then sold to Legacy Emanuel Hospital in 1980 for $397,000, but remained undeveloped until now. The change came this summer when Legacy announced it was willing to donate the entire block back to the city for something that would benefit the African-American community while retaining some space on the block for possible medical use.
Some possible developments talked about so far include affordable and workforce housing for seniors and families, community gathering spaces, a culture business hub, open space, retail spaces, and other desired amenities that would be geared toward a revitalized community.
The proposal, however, did get some pushback when the announcement was made last August, mainly over concerns that Legacy should not benefit from any public monies used on the project.
Some members of the agency's urban renewal advisory committee for north and northeast Portland spoke out at the time to express their concerns, including Leesha Posey, Rhsaan Muhammad, Michael Davis and others.
One worry was that a portion of $32 million of tax-increment funding reserved for housing and economic development in the Interstate Urban Renewal Area would help the medical provider at the expense of community priorities. The area's tax-increment funding is set aside to help small, struggling, minority-owned businesses and for affordable housing in the north and northeast Portland corridor.
The complaints also stemmed from the abruptness of the Hill Block development announcement, as committee members had no prior knowledge of the proposal Legacy was giving Prosper Portland for the block's future, according to reports.
"They're just repeating history," said local resident and committee member Michael Davis.
In response, Legacy officials have promised that any portion of the lot that is developed for Legacy's use would be paid for by the health provider, not from the city's public funds reserved for economic development and housing.
Because the lot sits just outside the Interstate URA, however, there is a proposal by Prosper Portland to revise the area's URA boundaries to add the property to the Interstate zone, making funds available for the project as a whole.
Vicki Guinn of Legacy Health Public Relations remembers the site in its heyday as an anchor of black life in Portland.

She told the Portland Observer that Legacy would not be accepting any tax-increment funding to develop their portion of the lot.
"Legacy will pay for any portion that expands our current campus," Guinn said.
Overall, Legacy Health Chief Executive Officer Dr. George J Brown said he hoped the project would help repair the displacement scars left from actions from long ago and "provide a new location for the spiritual center for what was once the center of Portland's African American community."
Prosper Portland continues to take input for ideas and to grow support for what might finally be developed on the site.
A community facilitator was named during the last meeting of the group overseeing urban renewal projects for the Interstate Corridor. He is Bishop Steven Holt, a black pastor at Kingdom Nation Church, and chair of a city panel charged with developing an affordable housing strategy for north and northeast Portland.
The next phase in the project is to develop a Project Working Group, which will be comprised of community members, who will ultimately decide what will be developed on the Legacy lot. Project working group members will be picked by Prosper Portland, Legacy, and the city based on a "balanced representation of the community," Guinn said.
"This is an opportunity for us to hear the community voice—seek the opinion of who have some kind of attachment to the community. And this is their opportunity to do something with that land that's been empty for so many years. This is their opportunity to get involved," Guinn said.
The next meeting of the Prosper Portland North/Northeast Community Development Initiative Oversight Committee, which is open to the public, is happening Thursday evening, Nov. 16, with the exact time and location still to be determined.