Healing and Making Good
Past and future intertwined in Hill Block development
Danny Peterson | 10/17/2017, 4:41 p.m.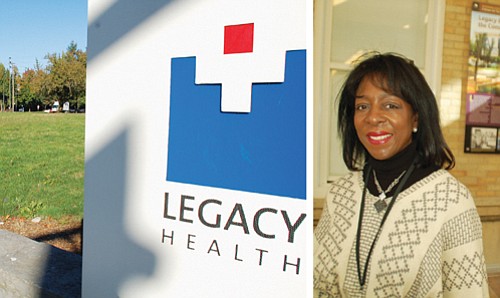 "Legacy will pay for any portion that expands our current campus," Guinn said.
Overall, Legacy Health Chief Executive Officer Dr. George J Brown said he hoped the project would help repair the displacement scars left from actions from long ago and "provide a new location for the spiritual center for what was once the center of Portland's African American community."
Prosper Portland continues to take input for ideas and to grow support for what might finally be developed on the site.
A community facilitator was named during the last meeting of the group overseeing urban renewal projects for the Interstate Corridor. He is Bishop Steven Holt, a black pastor at Kingdom Nation Church, and chair of a city panel charged with developing an affordable housing strategy for north and northeast Portland.
The next phase in the project is to develop a Project Working Group, which will be comprised of community members, who will ultimately decide what will be developed on the Legacy lot. Project working group members will be picked by Prosper Portland, Legacy, and the city based on a "balanced representation of the community," Guinn said.
"This is an opportunity for us to hear the community voice—seek the opinion of who have some kind of attachment to the community. And this is their opportunity to do something with that land that's been empty for so many years. This is their opportunity to get involved," Guinn said.
The next meeting of the Prosper Portland North/Northeast Community Development Initiative Oversight Committee, which is open to the public, is happening Thursday evening, Nov. 16, with the exact time and location still to be determined.