Less Force, More Empathy
Changes due after report finds police use too much force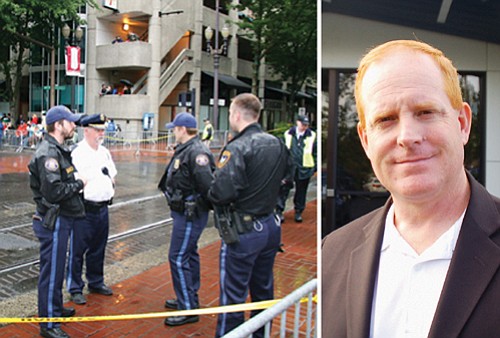 Some insiders within the Portland Police Bureau and social justice advocates outside of it are hopeful for progress in officer training that will put a greater emphasis on de-escalating conflicts between police and the public, while others are cautious about empty promises.
A group of national consultants recently found that the Portland Police Bureau is not training its officers enough in de-escalation techniques as an alternative to force, especially as it studies deadly force and investigates potential conflicts between police and the mentally ill and people of color.
The consultants wrote in early October that Portland Police training needed to put "greater emphasis to building verbal communication and de-escalation skills." To date, however, insufficient training time and a lack of quality instruction has been devoted to these important behaviors, the report said.
By observing three of Portland's annual police training cycles, the consultants noted how in many instances police were often escalating tensions rather than defusing them. Some of the examples involved officers trying to get suspects to follow commands by lacing verbal orders with profanity and a raised voice. While officers recorded these interactions as 'non-force" techniques, the consultants said they were the opposite.
The report said de-escalation techniques are those that are used to calm an agitated subject, promote rational decision making, and gain non-fear based, voluntary compliance.
"There appears to be a large-scale confusion regarding the intent of de-escalation with the bureau and the confusion has yet to be adequately rectified through training and the evaluation of force events," the consultants wrote.
Portland civil rights organizer Jo Ann Hardesty, who has been working with police to incorporate community relations into training, told the Portland Observer that the idea of stronger de-escalation training would be "one small step in the right direction."
Some parts of the report praised Portland Police's progress in best practices, such as local officers conducting meetings with mental health service partners to gather input from them on how to deliver services. The consultants wrote that they "have been continuously impressed by the collaborative and respectful nature of the meetings."

The consultants' report comes as a requirement of a 2014 settlement agreement between the city of Portland and the U.S. Department of Justice after a 2012 investigation found that police were using too much force against people with mental illnesses.
High profile cases like the police shooting death of James Chasse, who had a mental illness, and other officer-involved shootings, served as a catalyst for the investigation.
After the death of Aaron Campbell, a suicidal black man who was unarmed when he was shot by police outside his northeast Portland apartment in 2010, national civil rights leader Jesse Jackson came to Portland and called for the Department of Justice's intervention.
The city hired Rosenbaum & Associates, a Chicago firm recognized as experts in assessing police behavior and best practices, to help it improve its practices and comply with the settlement terms to reduce crisis encounters between persons with a mental illness and police.
The report found that Portland police were often confused about the difference between what's called de-escalation and force-mitigation techniques.