Less Force, More Empathy
Changes due after report finds police use too much force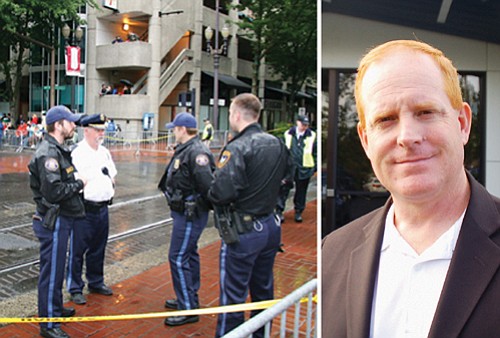 De-escalation can involve using calm and empathic communication before resorting to force, whereas force-mitigation can rely on commands and warnings as a first resort to stop a conflict from escalating.
Many Portland police were found to be using force-migration techniques when de-escalation would be more appropriate, the report found.
Portland police say they want to incorporate the consultants' recommendations into their training.
Portland Police Captain Bob Day, who was appointed in July 2016 as the new head of training at the Police Bureau, says he understands the consultants' call for better de-escalation training and is "very supportive of that," but told the Portland Observer that the desired instruction presents some obstacles.
There are only 40 hours per year allotted to officer refresher training courses and many of the core classes, like traffic training, domestic violence response, etc. are too important to cut out, Day explained.
"You know, at the end of the day, it just becomes a capacity issue. Organizationally, we are going to have to reflect and prioritize," Day said.
Day said he does not have a dedicated, formal de-escalation class, but now plans to integrate the consultant's recommendations on de-escalation "as a thread" throughout the police training curriculum.
Dan Handelman, a member of civil rights group Portland Copwatch, told the Portland Observer he believes de-escalation should be given a dedicated class, in light of the recent report.
"I think they should have a separate training for de-escalation for sure. In the same way that they have a class about a weapon that says 'here's how to use a weapon,' they should have a class about de-escalation that says, 'here's how to use de-escalation' and then integrate it," Handelman said.
He cautions that Portland Police have made reform promises in the past, but haven't always followed through on them.
"The city had a plan to eliminate racial profiling in 2009," Handleman pointed out. "Here it is in 2017 and there's still racial profiling in the city. We can't keep waiting for them to fix these things when the community is being mistreated," Handelman said.
According to an independent police report, 2016 marked a peak of community complaints about use of force by Portland Police. There were 143 use-of-force instances which is higher than each of the last five years.
At least six police shootings in Portland since 2012 were at individuals thought to be experiencing a mental illness. Though officer-involved shootings overall dropped from six in 2015 to two in 2016, conduct and force complaints have increased substantially in the same period.