Tubman in Limbo
School board wants more study; not sure on re-opening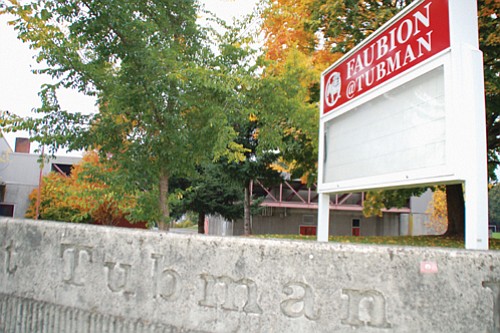 Long awaited plans to reopen a middle school with deep ties to the African American community and one that can expand options and build a stronger program to serve more students are once again put in limbo, drawing opposition from community advocates.
The Portland School Board voted last week to defer action on the opening of Harriet Tubman Middle School, slowing down its plan to bring equal access and quality academic programs to schools across the district.
Board members indicated they wanted more time to study pollution and other environmental safety concerns at the former school site, and also give more attention to proposed boundary changes that would impact several east side schools that feed students into the Grant and Madison High School attendance areas.
The district will now conduct safety tests to evaluate potential pollutants and toxins both inside and outside of the Tubman school site, located at 2231 N. Flint Ave., items such as lead, radon, asbestos, diesel emissions and other air pollutants. School officials said they also want to gather information on Tubman's foundational integrity as it is located next to a hillside—which could take until summer of 2019 to complete.
While outdoor air quality testing has been done at Tubman in the past, no comprehensive indoor air quality study has been completed, Portland Public Schools Chief Operating Officer Jerry Vincent said at last week's school board meeting. The air quality standards have also changed since the most recent air quality test was completed in 2009, Vincent said, so they want to have a third party look over the needs and requirements.
"We don't know what we don't know" said Superintendent Guadalupe Guerrero at the School Board meeting.
Tubman Middle holds special significance in the African American community, as its initial opening in 1983 at the former Eliot Elementary School represented a changing in the tides for displacement of black children. Before Tubman, there was not a dedicated middle school in inner North/Northeast. Most black kids before 1983 got dispersed by the school district, through busing, to middle schools outside their communities.
Ron Herndon, director of Albina Head Start, one of the civil rights activists who helped advocate for opening Tubman as a middle school back then, told the Portland Observer that the health concerns raised are not new. Most recently, Tubman provided temporary space for students from Faubion Elementary, the northeast Portland school which was rebuilt and reopened this fall; and from 2007 to 2012, Tubman served as the girls-only Harriet Tubman Young Women's Leadership Academy.
"I'm just very angry," Herndon said. "It seems as if the closer we get to the opening of Tubman, these, these, uh, concerns are raised. There were children in Tubman, the Tubman site, from the Faubion School all last year. Why weren't health concerns raised then?" Herndon asked.
Herndon said he met with school board members routinely, about twice a month, for over a year regarding the opening of Tubman and not once did they bring up health concerns.
He added that if the school board was concerned for pollution due to Tubman's proximity to Interstate 5, then they should have tested other schools near freeways, like Lincoln High School which sits above I-405 in southwest Portland.