Exploring Gender and Voodoo
Transcending assumptions of what it means to be gendered
9/6/2017, 1:51 p.m.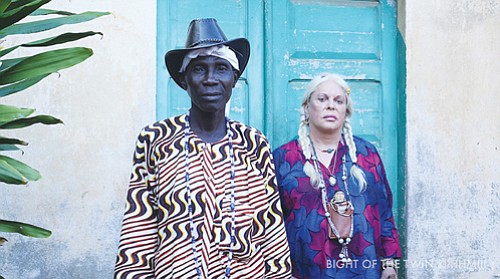 Transcending assumptions of what it means to be gendered, "Bight of the Twin," a visual and musical documentary, tells the story of musician and artist Genesis Breyer P-Orridge and filmmaker Hazel Hill McCarthy III's journey to the west African nation of Benin to explore the origins of Voodoo.
Orridge and his/her late wife Lady Jaye underwent a series of surgical procedures to become physically identical to one another, seeking to perfect a gender-neutral state. In Benin, twins carry sacred meaning and are venerated as gods.
The NW Film Center presents the movie as part of Portland Institute for Contemporary Art's month long "TBA 17" festival, on Friday, Sept. 8 at 7 p.m. and again on Sunday, Sept. 10 at 4 p.m. in the Whitsell Auditorium, located in the Portland Art Museum, downtown.
Tickets are $9 general and $8 for students and seniors. For more information, visit nwfilm.org.